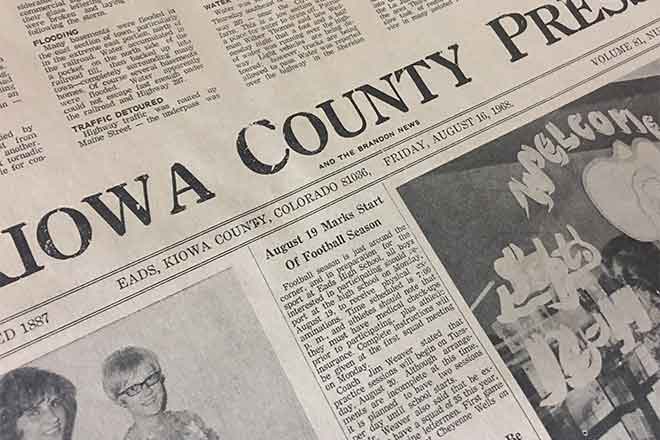 Published
Sunday, April 4, 2021
15 Year Ago
April 7, 2006
Grand Opening of Prairie Pines was held with a breezy ribbon cutting ceremony.
25 Years Ago
April 5, 1996
Daylight Saving Time started on the first Sunday in April. (In 2007, Daylight Saving Time was extend to begin on the first Sunday in March and end on the first Sunday in November)
40 Years Ago
April 3, 1981
Mark Brown, 4th grade student at Eads Elementary, March 26 found the remains of a balloon released by the Avondale Elementary March 24. A card was attached encouraging finder to write to a student named on the card. The balloons were "Writing Pals Program" a Weekly Reader promotion.
50 Years Ago
April 2, 1971
May 2 is to be Kiowa County Day at the Gateway Downs - the Holly racetrack.
75 Years Ago
March 29, 1946
The oil test well being drilled north of Eads has attracted much attention is steadily going downward. Wednesday evening, the depth was at 4820 feet.
100 Years Ago
April 1, 1921
Water is to be turned into the mains of the Eads waterworks system. The well has been completed and tested with plenty of water being found by the pumping test.
H. Brandon accompanied by Leo Walker, came from Mystic, Iowa, and located three miles south of Galatea. Mr. Brandon brought some extra fine Poland China hogs and will conduct the hog business at his ranch.