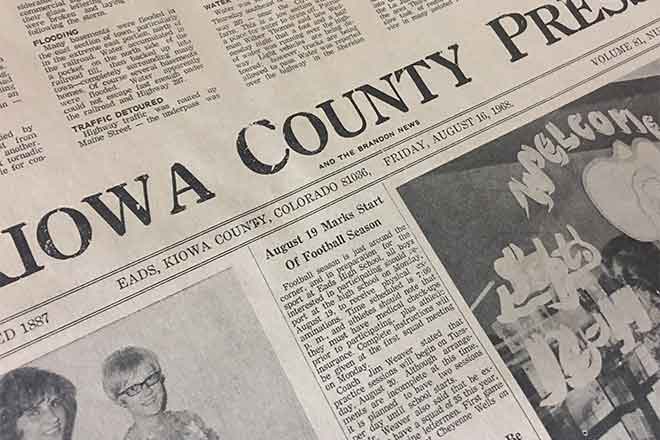 Published
Sunday, January 31, 2021
15 Year Ago
February 3, 2006
East End Events- Lana Weber: I went to work and got home real late, so forgive us for not calling for news. But not to worry, I'll make something up.
Alexa Roberts, Superintendent of the Sand Creek Massacre National Park Service, has accepted a 30-day work detail in New Orleans Louisiana. Roberts will be assisting FEMA's cleanup efforts after Hurricanes Katrina and Rita
25 Years Ago
February 2, 1996
About Town- Ida Lessenden: Many Eads senior citizens met at the center to have a Super Bowl party. There was a really good crowd and good food.
East End Events- Plainview 6th Grade: There was a Super Bowl party at the KA Hall. Some stayed after and enjoyed bowling and the gym was open for basketball, skating and fun.
Nursing Home News- Nellie Nickert: Will wonder never cease? I never expected to see the inside of a bowling alley again, but low and behold the activity director and the therapist took four of us to bowl. June Wilcox, Jim Bobbit, Bill Paulson and myself.
40 Years Ago
January 30, 1981
John E. Jacobs again garnered the Sweepstakes Trophy for the best display of 10 heads of sorghum at the 1981 Colorado Pure Seed Show held in conjunction with Western National Stock Show.
50 Years Ago
February 9, 1971
Eads Student Council sponsored an all-city clean up in Eads, and in a short period of time, 20 juniors and seniors gathered 11, 000 pounds of trash.