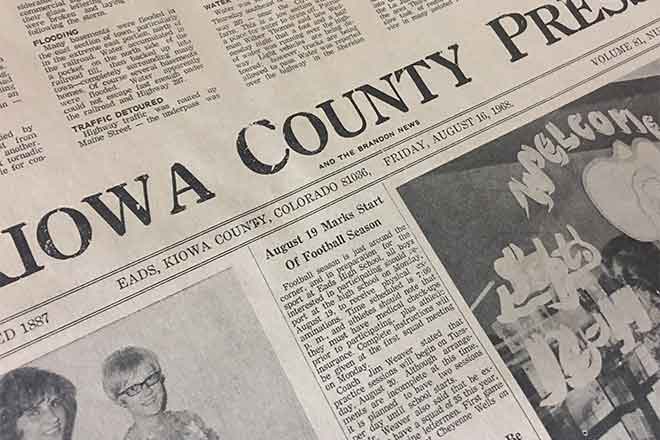 Published
Sunday, June 6, 2021
15 Year Ago
June 9, 2006
Wild Horse Roundup- Curtis Schrimp: The Wild Horse Post Office received an award for the "Best Overall Scanning Performance at the meeting in Denver. A plaque is hanging in the post office. Susie Paintin and her assistant, Candi Chamberlin, do a nice job.
Keagan Gonzales, Eads Middle School, was one of five sixth grade students chosen to attend the Junior National Leadership Conference held in Washington D.C.
Prairie Pines Assisted Living Community accepted its first resident.
25 Years Ago
June 7, 1996
Up to seven tornadoes were reported in eastern Kiowa County, with as many as three on the ground at once. By Saturday morning, insurance companies had already established waiting lists to evaluate property damage.
Kiowa County was given a $11,200 grant to conduct a technical survey and complete a Colorado Historical Society Historic building inventory record and a State Register of Historic Properties nomination form for the 1915 Bransgrove Building.
40 Years Ago
June 5, 1981
Resolution: Kiowa County will have jurisdiction of the disposal site and will be open Monday, Wednesday and Saturday. Any unauthorized persons caught disposing outside this disposal site will be punished by fine.
From the Sheriff Desk- Floyd Griswold: Haswell 3 to 4 inches of rain fell flooding basements and roads.
50 Years Ago
June 4, 1971
Stock water pit built on the Rudoph & Wollert ranch will pick up and store water from a diversion on the Ed Negley farm. The project was cost-shared through REAP program and Great Plains Conservation Program.
75 Years Ago
May 24, 1946
A.F. Wenger, former County Commissioner, has completed arrangements for the purchase of the Farmers Union Elevator in Eads.
100 Years Ago
May 27, 1921
Sheriff McCracken captured three booze manufacturers and placed them in the county jail in Eads. They were taken to Sheridan Lake and tried before Justice Moss.