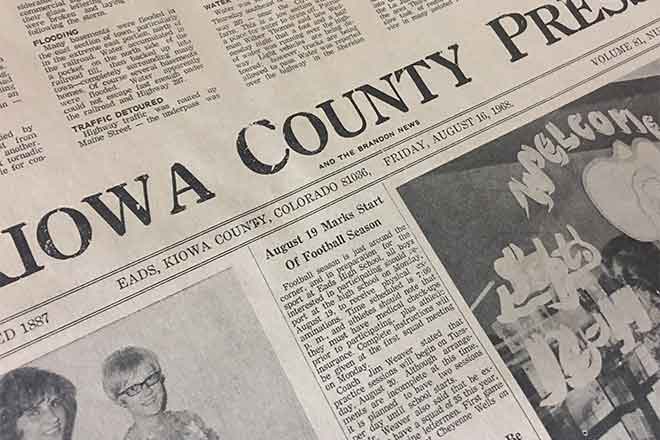 Published
Sunday, March 28, 2021
15 Year Ago
March 31, 2006
As the West End Turns- Michelle Wyckoff: Helen and Charlie Mitchell just returned from Argentina where they spent three whole months taking ballroom dancing lessons and perfecting their Tango.
25 Years Ago
March 29, 1996
Wild Horse Roundup- Curtis Schrimp: Nick Johnson of Wild Horse entered the 1-on-1 hoop shoot in Eads and won the Junior Division, three-point and overall championship.
East End Events: Over the last week several of the families with kids went somewhere for spring break.
40 Years Ago
March 27, 1981
Winners of the poster contest sponsored by WIFE were Barbara Beaman and Eric Weisdorfer tied 3rd, Meg Kreutzer 2nd, and David Lathrop 1st.
50 Years Ago
March 26, 1971
Mike Abrams, 10th grade student from Eads High School and son of Mr. & Mrs. Harry Abrams Jr., displayed the Grand Champion project at the Tri-County Regional Science Fair.
Installation of an Intensive Care Unit (ICU) and Closed-Circuit Television has been completed at Weisbrod Memorial Hospital.
75 Years Ago
March 15, 1946
Workmen arrived a few days ago and began excavating for a new Missouri Pacific railroad depot in Eads.
March 22, 1946
The government advertised for bids on a Gramm fire engine at Fort Lyon and the town of Eads was the successful bidder at $502.00
100 Years Ago
March 25, 1921
The Second Annual County Spelling Contest held with L. B. Jones of Galatea spelling contest winner. Robert Laing of Eads second. Raymond Hicks of Eads was the oratorical contest winner.
Three new grain elevators are soon to be built in Eads. Mr. Enfield, who has a chain of elevators on the Santa Fe, is the one building them.