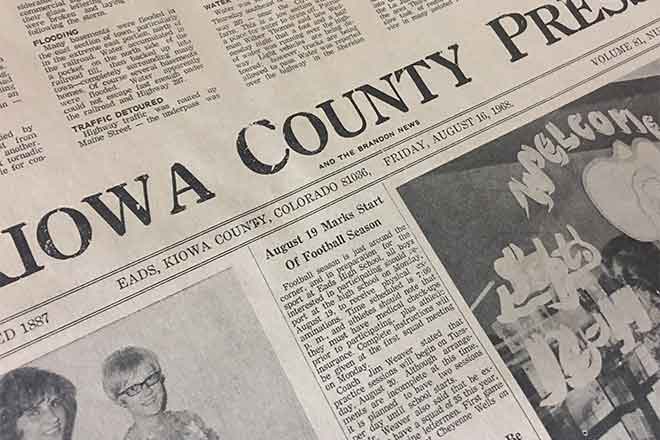 Published
Sunday, April 9, 2023
15 Years Ago
April 4, 2008
Wild Horse Roundup- Curtis Schrimp: Wild Horse has been visited by turkeys about every day this past week. I have counted as many as 35.
25 Years Ago
April 3, 1998
Applications for the Youth in Natural Resources now available. The program offers high school students an opportunity to learn about the Colorado environment through hands-on, paid work experience with natural resources education activities.
40 Years Ago
April 8, 1983
Hospital Board Minutes: No longer will hospital be reimbursed by the government according to what it cost them to care for the elderly. Medicare payment will be based on a set fee per patient discharge.
50 Years Ago
April 6, 1973
Cattlemen in Prowers, Bent, Baca and Las Animas counties took staggering losses. Animals of all kinds perished. New calves, prize bulls, cows, and yearlings were struck down by the paralyzing snows. An estimated 50,000 head of cattle were stranded in the area form Lamar south to the Oklahoma line and westward to Trinidad.
The Country Manor open house is slated in Eads for April 15.