Image
Plainview Junior High Knowledge Team places second at Holly meet
After two knowledge meets - Eads and Holly - the Plainview Junior High Knowledge Team is proving to be a force. These students - Jaxson Specht, Gael Enriquez-Munoz, and Alexa Enriquez-Munoz - have not competed in Knowledge Bowl before, and are definitely doing well.
At the Eads Meet, they placed fifth in the seventh-grade division. Holly Junior High placed fourth Plainview actually tied with Holly, however the Wildcats had higher scores in the previous oral round. In that meet, Swink placed second, and Lamar placed first.
Image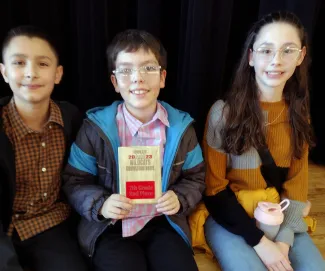 At the Holly meet, the Plainview Hawks showed improvement from their first meet, scoring 19 points in the written round, 18 points in the first oral round, and 10 points in the second oral round. Going into the third and final oral round, Plainview was first with 47; behind them was Holly with 40, and Lamar with 39. Unfortunately, the Hawks couldn't keep up their momentum against Holly, who scored 16 points to Plainview's six.  The Hawks finish second with 53 points, and Lamar finished third with 44 points. Holly placed first with 56 points.
The Junior High Hawks look forward to each meet, and exhibit a winning energy. Coming up for them in December are Flagler on December 1, and Springfield on December 8.
Good luck Jaxson, Gael, and Alexa, in your upcoming meets.