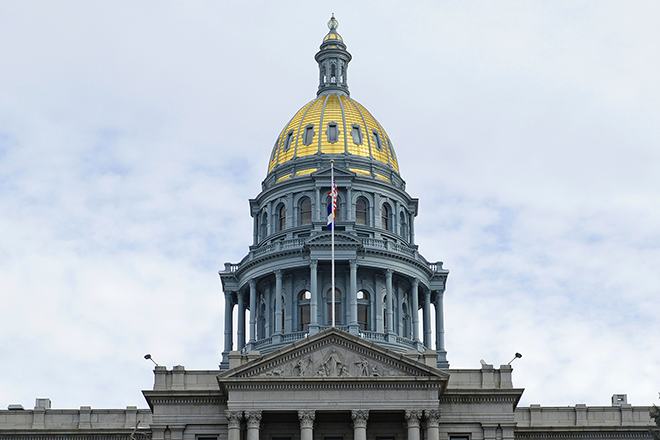 Published
Friday, September 27, 2019
By Derek Draplin | The Center Square
Colorado Governor Jared Polis faced stark criticism Thursday after The Center Square reported that an official in his communications office asked two Colorado newspapers to unpublish a news story that included an opposing view of the governor's decision to create a new taxpayer-funded office.
"It is extremely disturbing Governor Polis' office sought to block outlets from running a fact-based story on his new wasteful bureaucracies," Colorado GOP Executive Director Lx Fangonilo said. "Is this what we should expect in the new era of Democrat control of government in Colorado - using political pressure to censor journalists? Threatening the First Amendment rights of news outlets to share information with the public is never acceptable."
Polis' communications' team has not responded to multiple requests for comment from The Center Square to address the criticism or its request to two newspapers to remove a news story from their websites that included a comment opposing the governor's spending policy.
The Polis administration did provide conflicting statements to other media outlets in the state to address its actions.
"The governor's press office told Colorado Politics that it wasn't because of the story, but because of the news organization behind it," Colorado Politics reported Thursday on why Polis staffers requested the two newspapers remove the story in question from their websites.
Colorado Springs-based KRDO reported that it "reached out to the Governor's staff who tell us there were inaccuracies in the Center Square's story." KRDO did not report what the supposed inaccuracies were or whether Polis' office provided specifics.
Polis' communications team did not respond to a request for comment about the conflicting statements. The Center Square was never contacted by Polis' office about any inaccuracies after it published the Sept. 4 story, titled "Polis creates 'Office of Future of Work,' third new taxpayer-funded office this year." The Center Square stands by its reporting.
On Wednesday, The Center Square reported on emails it obtained through an open records request that show Polis Press Secretary Conor Cahill asking editors at the Kiowa County Press and The Chronicle-News in Trinidad to remove the Sept. 4 story from their websites. The Center Square allows other media to republish its content.
"I see you have run a recent article published by The Center Square which is not a reputable news source," Cahill emailed to editors. "Would you consider removing it?"
"No. I see no issue with the story," The Chronicle-News Editor Eric John Monson responded in an email. "Very surprised you would make such a request."
Chris Sorensen, publisher and online editor of the Kiowa County Press, responded to Cahill's emailed request saying, "Pending clarification, I suspended the article from the website. Is there a factual error that needs to be corrected?"
Cahill responded only with a link to an opinion piece published on a left-leaning advocacy website inaccurately describing The Center Square. Sorensen said he republished the story after Cahill did not present evidence of a factual error.
Polis' office on Thursday defended itself for pressuring newspapers to remove the news story, described as "straightforward" by other news outlets and media observers, in statements to other media.
"The people of Colorado deserve quality, objective news they can trust so they can make their own informed decisions," a statement from the governor's office, first reported by Colorado Politics, said. "Newspapers can publish whatever they want to, anywhere they want, at their own prerogative, but the public is served best when articles by partisan organizations are placed in the opinion section or branded accordingly."
The Center Square is a nonprofit, nonpartisan news service that covers state government news with a taxpayers' sensibility in Colorado and several other states.
Polis' Facebook page in June shared a Center Square story republished by the Montrose Daily Press about jobs growth, saying, "Great to see that jobs in our state continue to grow!"
Colorado Senate GOP spokesperson Sage Naumann, who's criticism of Polis' creation of the Office of Future of Work was included in the Sept. 4 story, mocked Cahill and Polis in a statement.
"Thanks to Conor Cahill, this story will be read by thousands more Coloradans, and I personally send him my thanks," Nauman said. "Perhaps if Governor Polis would get to work on creating the Office of Credibility in Media we could really get to the bottom of these issues - or perhaps it's best I not give them any ideas."
Jon Caldara, president of the free market Independence Institute, questioned Polis' support for free speech rights.
"I thought Jared Polis supported the First Amendment," he said. "I am surprised and disheartened by this heavy-handed attempt to pressure any news outlets from the governor's staff.
"I have known Jared Polis for over two decades and while we disagree over many issues, one of his stronger characteristics seemed to be his accessibility and openness to all press," Caldara continued. "Either the governor needs to come down on his press office and demand they be transparent with all media, or something must have changed with Jared himself."
The Colorado Democratic Party, as well as Colorado House Democrats and Senate Democrats, did not respond to requests for comment.