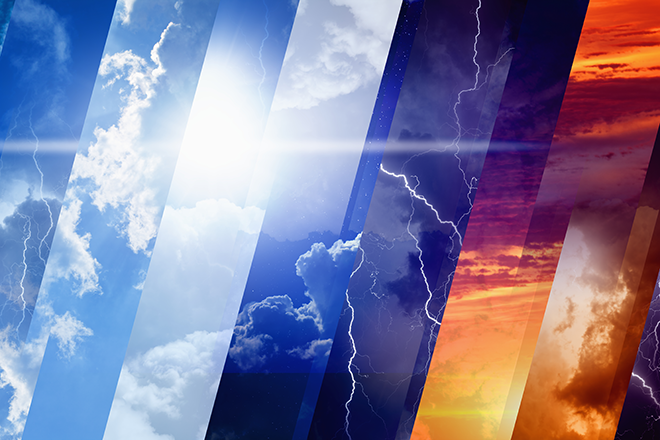 Published
Sunday, April 2, 2017
By Chris Sorensen
Sunday and Monday will provide a warm start to the week across southeast Colorado before another storm system enters the area.
Sunday will become sunny after some early morning patchy fog subsides. Look for a high around 60, falling to the mid-30s overnight.
Conditions will be similar Monday, with mostly sunny skies and a high in the low 60s. Things begin to change Monday evening as another system enters the region. Rain becomes likely after 7:00 p.m., mixing will snow by early Tuesday morning as temperatures drop to the low 30s. Although little accumulation is expected, there is still uncertainty about the system's track. Temperatures are expected to be cooler than with the two systems last week.
Snow is likely before 8:00 a.m. Tuesday, switching to a rain-snow mix as the morning progresses, potentially providing more relief from drought conditions impacting eastern Colorado. North winds will be in the 20 to 25 mile-per-hour range by the afternoon, with gusts to 40 mph possible. The high will be around 40 before dropping to the mid-20s overnight. Winds will drop to the 15 to 25 mph range.
Precipitation begins to taper off Wednesday as the high reaches the low 50s. North winds continue around 15 to 20 mph, with possible gusts as high as 30 mph. Night time lows return to the mid-20s.
Thursday marks the start of a warming trend into the weekend as the high reaches 60. Upper 60s are expected Friday, increasing to the mid-70s Saturday.
KiowaCountyPress.net now offers a free forecast update emailed to you each morning around 6:00 a.m. To begin receiving forecast updates, send an email to kiowacountypressweather+subscribe@googlegroups.com for quick signup process. Then, just reply to the message sent back to you to confirm your email address, and you're done! You'll start receiving the weather forecast the next morning. There's no cost, and you can unsubscribe any time.