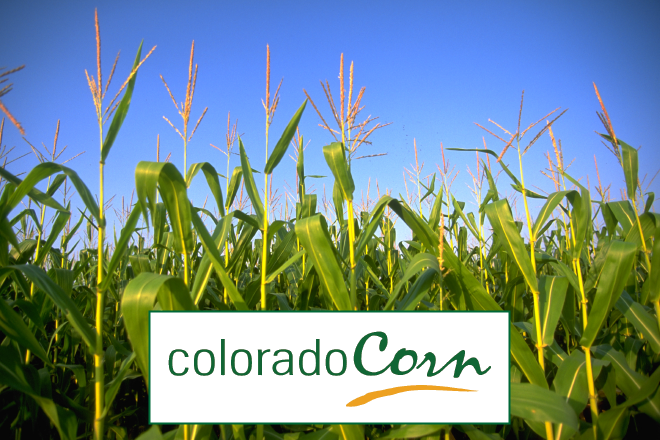 Published
Friday, December 23, 2016
By Mark Sponsler, Colorado Corn CEO
Spending years on the defense as an ethanol advocate, it was encouraging and refreshing to see several

positive developments take place recently - some validation in that the battle for American energy independence is still a U.S. priority, and that American farmers can continue helping in the fight.
In October, Colorado Corn staff had the opportunity to meet in Greeley with USDA Farm Service Agency National Administrator Val Dolcini and others for a press conference, highlighting that Colorado is one of 21 states receiving grant dollars through the Biofuel Infrastructure Partnership program - a nationwide investment of $210 million that will add the infrastructure needed to supply more renewable fuels to drivers.
This USDA program awarded $600,000 through the Colorado Department of Agriculture, which - with matching funds from various partners - will bring 84 higher-ethanol blend pumps at 17 stations statewide. Nationally, the program will support nearly 5,000 pumps at over 1,400 fueling stations.
In his remarks, Mr. Dolcini stressed that the BIP program represents "an all-of-the-above strategy when it comes to national energy policy." Encouraging words, no doubt.
During that same week, retired Maj. Gen. Paul Eaton penned an op-ed, published in The Hill and elsewhere nationally, detailing the importance of ethanol and the Renewable Fuel Standard (RFS) to national security.
And then in November, the Environmental Protection Agency in its final rule called for 2017 "conventional renewable volume obligations" under the RFS to be at 15.0 billion gallons - putting ethanol production back on track with the original RFS statute from 2007 for the first time in years.
These recent examples of attention-grabbing ethanol news and advocacy were certainly welcome to the tired warriors who've long been battling myths and misconceptions.
Ethanol is a clean-burning, renewable, high-octane biofuel that's reducing our dependency on foreign oil, boosting rural economies, and helping lower gas prices at the pump. There's no good reason, based on fact and sound science, that ethanol advocates have had to spend so much time on the defense.
So as we welcome a new administration, let's continue the proactive affirmation of our nation's need for renewable, sustainable fuel sources that don't require military escorts to cross national borders.
Our story is too good not to be told, and there's too much at stake to not tell it.
***
The Colorado Corn Administrative Committee (CCAC) recently awarded a total of $7,500 to three FFA chapters, helping with projects that range from greenhouse irrigation and fertilization systems to livestock facilities, and in one case, helping a new chapter get off the ground. The CCAC's FFA grant program began in 2013, and as contributed $28,984 total to FFA chapters.
This year's recipients (receiving $2,500 each) are:
* Holly FFA, to install an automated watering and fertilizer system in its greenhouse
* The new Manzanola FFA chapter, to help fund various needed curriculum and other items
* Sedgwick County FFA, to build a structure on its school farm, for raising market hogs
***
There was no shortage of contributors who helped make 2016 an outstanding year for the Colorado Corn Administrative Committee (CCAC) and Colorado Corn Growers Association (CCGA). And during a recent annual banquet, both organizations honored those who went above and beyond for the agriculture industry.
They were:
* Colorado Corn Farm Steward of the Year-Innovator Award Winner: Casey Kropp of Holyoke
* Colorado Corn Farm Steward of the Year-Excellence in Conservation Award Winner: Byron Weathers of Yuma
* Colorado Corn Amicus Friend of Agriculture Award Winner: Charlie Bartlett of Merino
* CCGA Jean Sirios President's Award Winner: Rod Hahn of Yuma
* CCGA Legislators of the Year: Rep. Jeni Arndt of Fort Collins, and Rep. J. Paul Brown of Durango
* CCAC Company of the Year: Kum & Go
* CCGA Company of the Year: McAfee and Taft
***
Colorado Corn is made up of the Colorado Corn Growers Association (CCGA) and Colorado Corn Administrative Committee (CCAC).
CCGA is comprised of dues-paying members who are politically active, focusing on policy that impacts corn producers.
CCAC oversees how Colorado's corn check-off dollars (one penny per bushel of corn produced in the state) are invested in research, market development, outreach, education and other endeavors.
Learn more at www.coloradocorn.com.