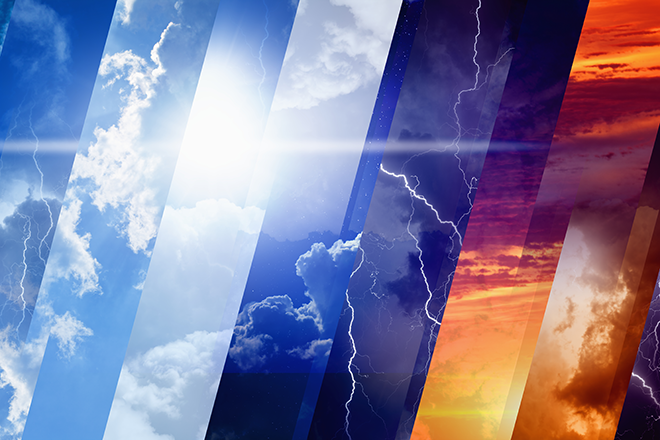 Published
Sunday, July 2, 2017
As the Independence Day holiday weekend continues, much of the state will bake under 90-plus degree temperatures Sunday into the coming week.
Eastern Colorado
The eastern half of the state will experience 90s, with Kim in Baca County being Sunday's outlier for the plains, with a high in the upper 80s. Toward the mountains, 70s and 80s will be more common. Thunderstorms - some severe - are possible later Sunday afternoon. Springfield, Lamar, Eads and Burlington are in the area with the greatest potential for severe storms, which could produce one inch or larger hail, wind gusts of 60 miles per hour, heavy rain and lightning. Storm activity is expected to start over the mountain area by mid-day and spread across the plains until 9:00 p.m.
Over the coming days, expect hot weather to continue, potentially into next weekend. Mountain valleys should top out in the upper 80s, while the plains will continue to see 90s. Strong to severe storms are possible Monday, particularly later in the day over the plains. A high-pressure system over the Four Corners area will help keep temperatures up for the remainder of the week. A few slow-moving storms may develop throughout the period, bringing moderate to heavy rain and gusty winds to the area.
Western Colorado
Conditions on the west slope are expected to remain hot and dry through the coming week. Grand Junction will see sunny skies and temperatures in the mid- to upper 90s for the next few days, then reaching to 100 by Wednesday through the end of the week. Northwest Colorado will be five to 15 degrees cooler, while the Cortez Montrose areas will see upper 80s to around 90 during the week.
Weather information is updated throughout the day at kiowacountypress.net/weather
Forecast - July 2 - 4

Sunday

Monday

Tuesday

City

High

Low

High

Low

High

Low

Eads

95

59

92

58

95

59

Springfield

95

53

93

60

94

62

Trinidad

89

56

90

57

89

57

Limon

91

55

89

56

90

56

Sterling

95

58

92

58

94

48

Fort Morgan

95

58

92

59

94

59

Craig

84

51

83

52

84

53

Grand Junction

94

61

96

64

97

65

Montrose

88

56

88

57

90

59

Cortez

87

52

88

52

90

54