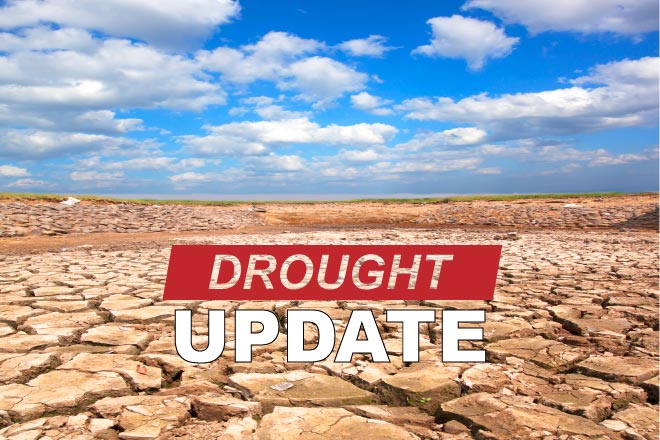 Published
Sunday, May 2, 2021
One week after Colorado saw the first drought-free area in the state since mid-2020, drought worsened for part of the state according to the latest report from the National Drought Mitigation Center.
The change came in northwest Colorado, where much of Rio Blanco County, and smaller areas in Moffat and Garfield counties slipped from extreme drought into exceptional conditions. Recent higher temperatures - occasionally reaching 80 degrees - along with little moisture over the past week, contributed to the decline. The area also saw red flag warnings for high fire danger.
Much of western Colorado has been in extreme and exceptional drought since late summer.
The remainder of the state remained stable for the week, though late-week moisture may show some additional improvements in the next report. Northeast Colorado received rain during the week, with portions of Logan and Phillips counties falling under flood warnings as late as Thursday morning. There were a few reports of as much as 11 inches of rain in parts of those counties, which contributed to flooding that damaged local roads and closed Highway 59 at one point.
Sunday afternoon, northeast and east central Colorado faces the risk of severe thunderstorms, which potential for localized heavy rain and large hail according to the National Weather Service. Hail in the area could be as large as two inches. Across the area, 0.2 to 0.5 inches of rain is possible, with higher amounts where thunderstorms occur.
USDA statistics rate more than half of the topsoil short or very short of moisture in Colorado (57%), Montana (57%), and Wyoming (55%), and nearly two-thirds or more so rated in South Dakota (62%) and North Dakota (80%). In Colorado, 32 percent of the winter wheat crop was rated in poor to very poor condition. Several Colorado communities were asked to voluntarily conserve water.
Overall, one percent of the state is drought-free, with an additional 10 percent in abnormally dry conditions, both unchanged from the previous week. Moderate and severe drought were also unchanged at 29 and 28 percent, respectively. Extreme and exceptional conditions swapped, with extreme drought falling to 15 percent from 17, while exceptional drought increased to 17 percent from 15 in the prior week.
Just over 3.3 million people in Colorado are in drought-impacted areas, down from 4.6 million two weeks ago.
One year ago, 24 percent of the state was drought-free, with an additional 19 percent experiencing abnormally dry conditions. Moderate drought was impacting 24 percent of the state, with 33 percent in severe drought.
Early in the summer of 2019, the state was in an eight-week span of drought-free conditions - the first time Colorado had been clear from all levels of drought and abnormally dry conditions since records became available starting in 2000. In late May of that year, the state's snow water equivalent stood at 437 percent of normal following a series of storms that brought abundant moisture across Colorado's river basins. As much as 77 percent of the state has fallen into the extreme and exceptional categories within the past year.
Drought classes include (ranked from least to most severe) D0 - abnormally dry, D1 - moderate, D2 - severe, D3 - extreme, and D4 - exceptional drought.
Colorado Drought by the Numbers

Week

Date

None

D0

D1

D2

D3

D4

Current

4/27/21

1

10

29

28

15

17

Last Week

4/20/21

1

10

29

28

17

15

3 Months Ago

1/26/21

0

0

9

18

48

25

Start of Calendar Year

12/29/20

0

0

6

18

49

28

Start of Water Year

9/29/20

0

1

10

36

50

3

One Year Ago

4/28/20

24

19

24

33

0

0