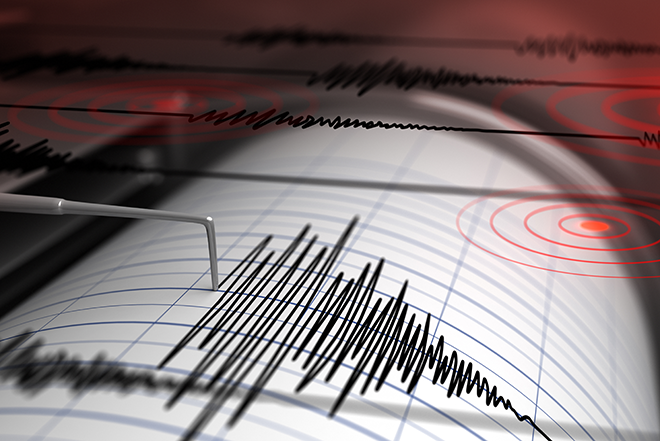 Published
Friday, August 24, 2018
An earthquake measuring 4.3 on the Richter Scale was recorded in western Colorado overnight. The quake was centered in Rio Blanco County just a few miles from the location of an underground nuclear test site in the 1970s, and was one of four to occur in or near Colorado over the past 24 hours.
The United States Geological Survey reports that the earthquake occurred shortly after 4:00 a.m. in a sparsely populated area about 50 miles north of Grand Junction at a depth of more than three miles.
As of 8:30 a.m., the USGS did not have any reports of people feeling the quake.
Another, smaller quake followed nearby at 5:21 a.m. It measured 2.9 at a depth of just over one mile.
In 1973, three nuclear devices were detonated at a site three miles northeast of Friday's earthquakes as part of a joint research project by the U.S. government and private companies to determine if natural gas could be recovered from sandstone using nuclear explosives. All three 33-kiloton devices were detonated at least one mile beneath the surface. Two test wells drilled in the area later in the year produced over 120 million cubic feet of natural gas over a five-month period. Decommissioning of the site began in 1976.
Two other earthquakes were recorded overnight just south of the Colorado-New Mexico border.
The first, which occurred just before 1:00 a.m., measured 3.6 on the Richter Scale at a depth of four miles. Just over an hour later, a 3.2 quake was recorded at a depth of five miles. They were located about 24 miles south of Trinidad, Colorado.
Friday's 4.3 magnitude quake was the strongest in Colorado since a 4.0 quake rattled an area 21 miles northwest of Trinidad on December 30, 2017.
So far this year, Colorado has experienced 10 earthquakes measuring 2.5 or greater.