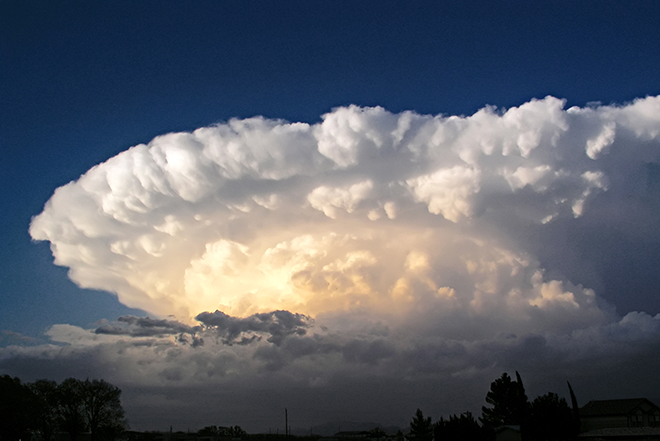 Published
Wednesday, May 10, 2017
By Chris Sorensen
Storms that brought abundant rain across eastern Colorado Tuesday return Wednesday afternoon.
Until recently, much of the eastern half of the state faced drought conditions. Recent rain, and a late-season snow storm less than two weeks ago, has led to a broad recovery, and this week's rain has produced saturated soils and a continuing risk of flash flooding.
A flash flood watch will be in effect Wednesday from 3:00 p.m. until the evening hours for western Las Animas, Huerfano, and eastern Costilla counties. A flood warning is also in effect for portions of Huerfano county Wednesday morning as the Cucharas River near La Veta continues to flood from rain and snowmelt.
Wednesday morning will start with little precipitation and calm conditions as a cool front moves down across the region. Showers are expected to begin forming over the eastern mountains by noon, gradually spreading across the plains. A risk for hail returns to the forecast, along with a potential for isolated tornadoes, as thunderstorms develop later in the day. Hail was reported in portions of southeast Colorado Tuesday, including a report of hail up to 1.25 inches near Brandon in Kiowa County.
Flooding of the Purgatoire River is a possibility later in the day into the evening hours. Overnight, water levels were high at Madrid, however a flood warning that had been in effect was cancelled shortly before midnight.
Showers are expected across the area through Wednesday night bringing up to an additional inch of rain.
Daytime highs will be in the upper 60s and low 70s before falling to the 40s overnight.
Showers and afternoon thunderstorms are expected to return Thursday.