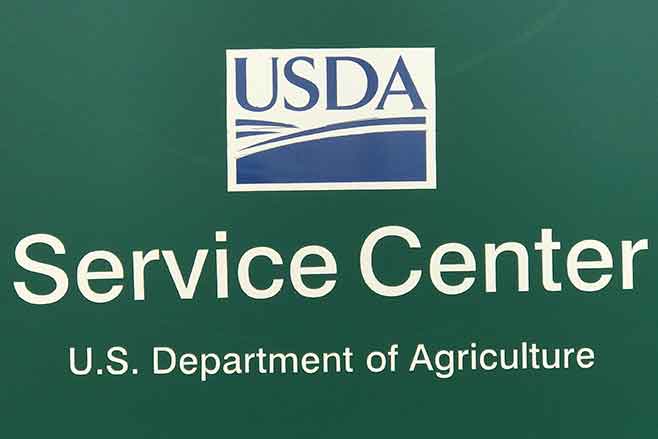 Published
Tuesday, August 25, 2020
IMPORTANT DATES TO REMEMBER
NAP DEADLINE - Triticale - September 1, 2020
SERVICE CENTER CLOSED - Monday, September 7, 2020 - Labor Day
NRCS CRP SIGNUP #54 CONSERVATION PLANS RETURNED - SEPTEMBER 10, 2020
CFAP - Signup May 26 - SEPTEMBER 11, 2020
LFP - Signup ends January 30, 2021
2020 PLC YIELD UPDATE - Deadline September 30, 2020
Disclaimer: Information in this UPDATE is pertinent to Kiowa County FSA only. Producers reading this and that do not have FSA interest in Kiowa County are advised to contact their local FSA Office.
DROUGHT MONITOR
Not any changes to our region on this week's Drought Monitor; southeast Colorado remains in D2 - Severe and D3 - Extreme drought intensities. There are only two places in Colorado that are considered 'abnormally dry' and that is in eastern Kit Carson and northeastern edge of Weld counties.
The FSA Office maintains weather data for the county and below is a spreadsheet showing moisture through the month of July for the county. There have been some areas of the county that have received some moisture in June and July. We'll see what the second half of the year brings in the form of moisture. It's time to be drilling wheat and the area could definitely use some good moisture to drill into.
| | | | | | | |
| --- | --- | --- | --- | --- | --- | --- |
| 2020 | CoCoRAHS - Haswell area | CoCoRAHS- SW Eads | Eads NOAA | North Brandon | Sand Creek CO AG MET | Sheridan Lake KW-25 |
| January | 0 | 0.10 | 0.12 | 0.1 | 0.12 | 0.13 |
| February | 0 | 0.74 | 0.8 | 1.15 | 0.63 | 0.31 |
| March | 0.8 | 0.26 | 0.32 | 1.37 | 0.6 | 0.27 |
| April | 0.1 | 0.12 | 0.18 | 0.15 | 0.12 | 0.04 |
| May | 1.17 | 0.74 | 0.74 | 0.91 | 0.82 | 1.06 |
| June | 1.65 | 2.24 | 0.64 | 2.16 | 1.57 | 1.64 |
| July | 2.86 | 2.3 | 0.45 | 3.55 | 1.09 | 5.9 |
| TOTAL Jan-July | 6.58 | 6.50 | 3.25 | 9.39 | 4.95 | 9.35 |
NRCS CONSERVATION PLANS
CRP signup #54 Conservation Plans for accepted offers were mailed out last week from the NRCS Office. The Conservation Plan must be signed by all participants on the CRP contract before the contract can be approved by the County Committee. The deadline to return the signed conservation plan(s) is September 10, 2020.
If producers do not wish to continue with the accepted offer must write a statement. The statement must be signed by all producers on the CRP-1 and be sent to the FSA office.
The effective date of the Signup #54 contracts is October 1, 2020.
EXPIRING CONTRACTS
Landowners and operators who did not reoffer expiring CRP land are reminded to secure a conservation plan with NRCS prior to destroying and planting a covered commodity on the expiring acres.
NAP DEADLINE - Kiowa county crops only.
Tuesday, September 1st is the last day to purchase a crop year 2021 NAP policy on fall seeded triticale for all intended uses of forage, grazing and grain, it also the last date to purchase a policy for both fall and spring canola. The last sales closing date in calendar year 2020 for crop year 2021 is December 1, 2020 for native grass for grazing, alfalfa, mixed forage.
For all coverage levels, the NAP service fee is the lesser of $325 per crop or $825 per producer per administrative county, not to exceed a total of $1,950 for a producer with farming interests in multiple counties.
The 2018 Farm Bill re-authorizes higher levels of coverage ranging from 50 to 65 percent of production, in 5 percent increments, at 100 percent of the average market price. Additional (buy-up) coverage must be elected by a producer by the application closing date. Producers who elect additional coverage must pay a premium in addition to the service fee. Crops intended for grazing are not eligible for additional coverage.
Producers who elect higher levels of coverage must also pay a premium equal to:
The producer's share of the crop; times
The number of eligible acres devoted to the crop; times
The approved yield per acre; times
The coverage level; times
The average market price; times
A 5.25 percent premium fee.
There is an online calculator available at Farmers.gov to assist producers to determine if buy-up coverage on the crop would be beneficial.
CRP GRAZING
Want to remind CRP producers, it is your responsibility to determine if the permanent cover can continue to sustain the grazing livestock; with the continued drought conditions the permanent cover may not justify continued grazing. When producers submitted the request to graze CRP, the grazing plan that was sent to both the grazing producer and the CRP producer is only a tool for stocking rates.
There is a statement on the grazing plan which is below and needs to be adhered to.
The stocking rate computed is based on estimated available forage. The number of head and days grazed can be adjusted (increased/decreased) as long as the desired outcome is achieved, and the vegetative cover is maintained. If the number of head is increased, then the days grazed should decrease. It is the responsibility of the producer to adjust the stocking rate (#head or days grazed) and ensure livestock are removed in a timely manner.
If the CRP producer determines that grazing must cease as the existing cover cannot sustain continued grazing; the producer grazing must remove the livestock. Don't jeopardize compliance on your CRP contract. All compliance issues are handled by the FSA County Committee and will involve payment reductions to the annual rental payment