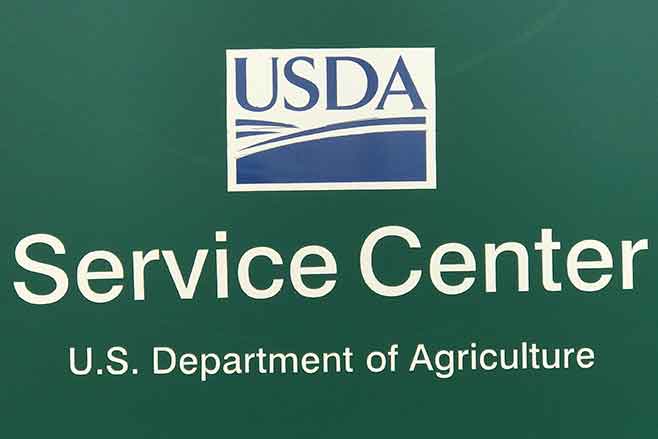 Published
Monday, July 27, 2020
IMPORTANT DATES TO REMEMBER:
2020 COUNTY COMMITTEE NOMINATION PERIOD - DEADLINE AUGUST 3, 2020
FSA 2020 ACREAGE REPORTING DATE: CONSIDERED TIMELY FILED BY AUGUST 14, 2020
TIP DEADLINE - 2020 EXPIRING CONTRACTS - AUGUST 17, 2020
CFAP - Signup May 26 - August 28
LFP - Signup ends January 30, 2021
2020 PLC YIELD UPDATE - Deadline September 30, 2020
WHIP+ signup - Begins March 23, 2020
Disclaimer: Information in this UPDATE is pertinent to Kiowa County FSA only. Producers reading this and that do not have FSA interest in Kiowa County are advised to contact their local FSA Office.
DROUGHT MONITOR
Last weeks Drought Monitor shows some improvement is certain areas in the counties of Kiowa, Crowley, Bent and Otero counties; as those areas have received some beneficial moisture in the past weeks and have been moved to a D2 status. The majority of Kiowa county remains in a D3 drought status.
CFAP SIGNUP
Producers who have not completed a CFAP or Coronavirus Food Assistance Program application are urged to contact an FSA office in your area before signup ends on August 28, 2020. There is information concerning eligible crops and livestock and other eligibility requirements on www.farmers.gov/cfap. A producer who does not have access to the internet, contact the nearest FSA Office near you.
COC NOMINATION PERIOD - AUGUST 3, 2020
County Committee Election Nomination period ends Monday, August 3, 2020. In Kiowa County, Local Administrative Area or LAA eligible for election is Area 1 - which is the eastern portion of the county. The current representative for this area is Sean Harkness.
Farm Service Agency (FSA) county committees are a critical component of the day-to-day operations of FSA and allow grassroots input and local administration of federal farm programs. Farmers and ranchers who are elected to serve on FSA county committees apply using their judgment and knowledge to help with the decisions necessary to administer FSA programs in their counties, ensuring
the needs of local producers are met. FSA county committees operate within official federal regulations and provide local input on:
* Income safety-net loans and payments, including setting county average yields for commodities;
* Conservation programs;
* Incentive, indemnity, and disaster payments for some commodities;
* Emergency programs; and
* Payment eligibility.
Every eligible agricultural producer should participate in FSA county committee elections--whether you are a beginning or established producer, historically underserved producer (minority and women), or whether you have a large or small operation--because FSA county committees are your link with the U.S. Department of Agriculture (USDA).
Election Period
* August 1, 2020 -Last day to file nomination forms at the local FSA county office.
* November 2, 2020 -Ballots mailed to eligible voters.
* December 7, 2020 -Last day to return voted ballots to the FSA county office.
* January 1, 2021 -Newly elected county committee members take office.
Who Can Vote
Agricultural producers of legal voting age may be eligible to vote if they participate or cooperate in any FSA program. A person who is not of legal voting age but supervises and conducts the operations of an entire farm also may be eligible to vote. Members of
American Indian tribes holding agricultural land are eligible to vote if voting requirements are met. More information about voting eligibility requirements can be found in the FSA fact sheet titled "FSA County Committee Election - Eligibility to Vote and Hold
Office as a County Committee Member," located at fsa.usda.gov/elections. Producers may contact their local FSA county office for more information. To find your local FSA county office, visit farmers.gov.
Nominations
Agricultural producers who participate or cooperate in an FSA program may be nominated for candidacy for the county office. Individuals may nominate themselves or others as a candidate. In addition, organizations representing underserved (minority and
women) farmers or ranchers may nominate candidates. To become a nominee, eligible individuals must sign nomination form FSA-669A. The form includes a statement that the nominee agrees to serve if elected. Nomination forms are filed in the FSA office that
administers a producer's farm records and is available at the FSA county office or online at fsa.usda.gov/elections. All nomination forms for the 2020 election must be postmarked or received in the local FSA county office by August 1, 2020, or next available business day.
KIOWA COUNTY FARM SERVICE AGENCY COUNTY COMMITTEE
Destiny Haase - LAA 2 - Central area - Committee Chairperson
Sean Harkness - LAA 1 - East area - Committee Vice-Chairperson
Michael Zimmerman - LAA3 - West area - Committee Regular Member
USDA SERVICE CENTER CONTACT INFORMATION
409 E Lowell Ave.
PO Box 188 - Eads, CO 81036
Telephone 719-438-5851 FSA (Ext 2), NRCS (Ext 3). FSA Fax number: fax2mail 844-332-7501
FSA - Farm Service Agency
* Dawna Weirich - CED dawna.weirich@usda.gov
* Charla Ferris - PT charla.ferris@usda.gov
* Hallie Barlow - PT hallie.barlow@usda.gov
NRCS - Natural Resource Conservation Service
* Steve Schmidt - steven.schmidt2@usda.gov Eads Office
* Scott Smith - Cheyenne Wells - 719-767-5648 ext. 3 scott.smith3@usda.gov
KIOWA COUNTY FARM LOAN CONTACT INFO - CALL FOR AN APPOINTMENT
Telephone 719-336-3437 (ext2)
Mary Rhoades, mary.rhoades@usda.gov,
Nicole Lubbers, nicole.lubbers@usda.gov
SERVICE CENTER OFFICE HOURS:
Monday through Friday - 8:00 a.m. to 4:30 p.m.
RECEIVE FSA INFORMATION
Visit website www.Farmers.gov for up to date information on the 2018 Farm Bill.
Receive text messages - Text COKiowa to FSANow (372-669) to subscribe.
Subscribe to GovDelivery emails: Visit www.fsa.usda.gov/subscribe or contact your local FSA Office.
For information on programs visit our website located at www.fsa.usda.gov or like us on Facebook or follow us on Twitter.
USDA is an equal opportunity employer.