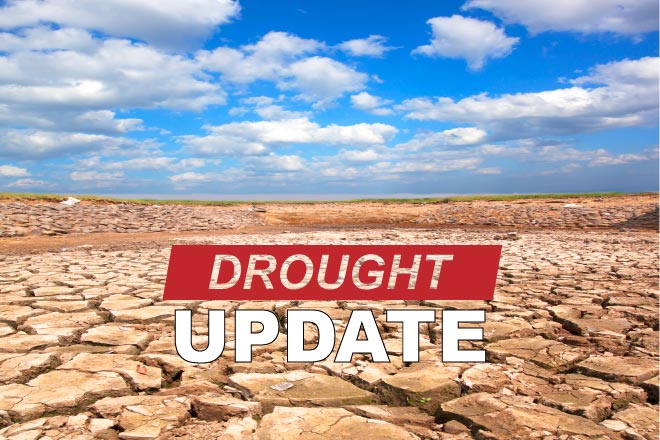 Published
Saturday, July 25, 2020
Thanks to recent rain, portions of southeast Colorado saw improvement in drought conditions while the northeast continued to experience a worsening situation according to the latest report from the National Drought Mitigation Center.
In far northwest Colorado, abnormally dry conditions expanded to cover all of Moffat County. A pocket of severe drought appeared over portions of Jefferson, Douglas, Arapahoe and Denver counties. Severe drought also expanded northward into Sedgwick County.
Moderate drought also expanded further in Logan, Morgan, Washington, Adams, Denver and Arapahoe counties.
Extreme drought - the second worst category - developed in eastern Washington and western Yuma counties. Heavy rain in the area Friday, which included flash flood warnings, may produce improvements in the next report.
In southeast Colorado, recent rains led to extreme drought shifting to severe conditions for all of Pueblo and Crowley counties. Extreme conditions also withdrew from a small portion of eastern Huerfano County, along with north central Las Animas County, most of Otero County, and portions of Lincoln, Elbert, Kiowa and Bent counties.
The coming week offers some hope for additional improvements in drought conditions. Through August 1, annual monsoon moisture is expected to stream into the state, with potential for heavy rains, particularly for the southwest quadrant of Colorado.
Sunday, heavy rain and flash flooding are possible across most of the southern half of the state.
Overall, only three percent of Colorado is free from drought, down from five percent during the previous week. Abnormally dry conditions dropped two percent to 23, while moderate drought increased to 14 percent from 12. Severe drought increased to 29 percent from 21. Extreme drought fell five percent to 32. Seventy-five percent of Colorado is in moderate drought or worse. Numbers do not equal 100 percent due to rounding.
Nearly 3.4 million people in Colorado live in drought-impacted parts of the state.
One year ago, Colorado was free from all levels of drought for the first time since tracking began in 2000. Abnormally dry conditions had just appeared in the state, covering three percent of the area.
Drought classes include (ranked from least to most severe) D0 - abnormally dry, D1 - moderate, D2 - severe, D3 - extreme, and D4 - exceptional drought.
Colorado Drought by the Numbers

Week

Date

None

D0

D1

D2

D3

D4

Current

7/21/20

3

23

14

29

32

0

Last Week

7/14/20

5

25

12

21

37

0

3 Months Ago

4/21/20

33

13

25

29

0

0

Start of Calendar Year

12/31/19

32

17

31

20

0

0

Start of Water Year

10/1/19

30

42

28

0

0

0

One Year Ago

7/23/19

97

3

0

0

0

0