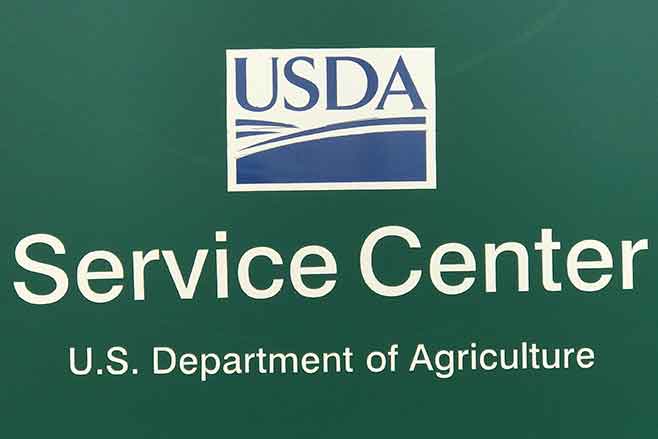 Published
Monday, March 16, 2020
IMPORTANT DATES TO REMEMBER:
2020- ARCPLC enrollment - Deadline June 30, 2020
2020 PLC YIELD UPDATE - September 30, 2020
WHIP+ signup - Begins March 23, 2020 - more information to come!
Farm Loan personnel in Eads Office - 2nd Tuesday every month
Disclaimer: Information in this UPDATE is pertinent to Kiowa County FSA only. Producers reading this and that do not have FSA interest in Kiowa County are advised to contact their local FSA Office.
COVID-19 USDA GUIDANCE
USDA Service Centers will continue to provide service to our producers with safety precautions in place. It is business as usual here in Eads, however producers entering the Service Center will need to answer the following questions;
Have you, someone living in your household, someone you have been in close or frequent contact with, or someone you are caring for been diagnosed with COVID-19 (Coronavirus) or had any contact with a confirmed case of COVID-19?
In the last 14 days, have you or someone living in your household, or someone you have been in close or frequent contact with, or someone you are caring for returned from, or made a travel connection through China, Hong Kong, Japan, Singapore, South Korea, Iran or Italy?
Do you currently have, or have you had within the last 24 hours, any cold or flu symptoms with a fever greater than 100.4 or acute respiratory distress (shortness of breath and coughing?)
If producer can answer 'yes' to any of the questions, entry into the Service Center is prohibited.
If producer answers 'no' to all questions, business can be conducted.
Remember, much of the business conducted with FSA and producers can be done via email, fax and mail or the phone. We will continue to provide the best service to our producers with these restrictions in place.
As always, if you are not feeling well, refrain from coming into the office and stay home.
OFFICE STAFF!
This week marks the end of 2019 ARCPLC enrollment and couple of weeks ago was the deadline for CRP signup #54. As most producers who conduct FSA business in Kiowa County realize that the majority of all the work is done by Hallie and Charla. What these two employees accomplished in the past 2 1/2 months is nothing short of amazing.
During CRP signup, Charla completed 174 offers on 46,450 acres. She coordinated field inspections with NRCS, contacted producers and completed offers by phone, fax, email and over the counter.
During ARCPLC signup, Hallie enrolled over 570 farms into ARCPLC and explained the difference between PLC and ARC-CO until she could quote it in her sleep.
I am very proud of these two employees, the work they accomplished and the great job they do daily for Kiowa County producers. JOB WELL DONE LADIES!
CRP GRASSLAND SIGNUP
The Conservation Reserve Program (CRP) Grasslands is part of the Conservation Reserve Program, a federally funded voluntary program that contracts with agricultural producers so that environmentally sensitive agricultural land is protected and used for conservation benefits. With CRP Grasslands, landowners and operators can protect grassland, including rangeland and pastureland, and certain other lands, while maintaining the areas as grazing lands. The program emphasizes support for grazing operations, plant and animal biodiversity and grassland and land containing shrubs and forbs under the greatest threat of conversion. Participants receive annual payments and cost-share assistance. Contract duration is either 10 or 15 years.
CRP Grasslands is authorized by the 2014 Farm Bill. The U.S. Department of Agriculture (USDA) FSA administers the program on behalf of the USDA Commodity Credit Corporation (CCC).
Interested participants may submit an offer with the USDA FSA from March 16 to May 15, 2020. These offers will be reviewed to determine which offers can be approved using applicable CRP Grasslands Ranking Factors. FSA collects data for each of the ranking factors based on the relative benefits for the land offered. Each eligible offer is ranked in comparison to all other eligible offers and selections for acceptance are made from that ranking.
FSA uses the following ranking factors, including:
Existence of expiring CRP;
Existing Grassland;
Existing Multi-species cover and predominance of native species;
State Focus Area (land-based) determined in consultation with State Technical Committee;
Applicant is an eligible Beginning, Veteran, or Socially Disadvantaged farmer or rancher;
Existing Small Livestock Operation;
Cost; and
Other factors as determined by FSA
The Kiowa County CRP Grassland rate is $6.00 per acre.
Kiowa County FSA Committee
Destiny Haase - LAA 2 - Central area - Committee Chairperson
Sean Harkness - LAA 1 - East area - Committee Vice-Chairperson
Michael Zimmerman - LAA3 - West area - Committee Regular Member
USDA SERVICE CENTER CONTACT INFORMATION
409 E Lowell Ave.
PO Box 188 - Eads, CO 81036
Telephone 719-438-5851 FSA (Ext 2), NRCS (Ext 3). FSA Fax number: fax2mail 844-332-7501
FSA - Farm Service Agency
NRCS - Natural Resource Conservation Service
KIOWA COUNTY FARM LOAN CONTACT INFO - CALL FOR AN APPOINTMENT
Telephone 719-336-3437 (ext2)
Mary Rhoades, mary.rhoades@usda.gov,
Nicole Lubbers, nicole.lubbers@usda.gov
SERVICE CENTER OFFICE HOURS:
Monday through Friday - 8:00 a.m. to 4:30 p.m. Friday, by appointment only.
RECEIVE FSA INFORMATION
Visit website www.Farmers.gov for up to date information on the 2018 Farm Bill.
Receive text messages - Text COKiowa to FSANow (372-669) to subscribe.
Subscribe to GovDelivery emails: Visit www.fsa.usda.gov/subscribe or contact your local FSA Office.
For information on programs visit our website located at www.fsa.usda.gov or like us on Facebook or follow us on Twitter.
USDA is an equal opportunity employer.