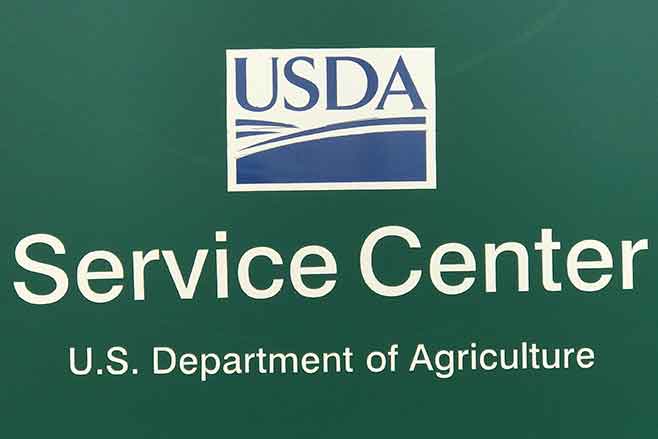 Published
Saturday, June 16, 2018
IMPORTANT DATES TO REMEMBER:
2018 SPRING ACREAGE REPORTING DEADLINE - July 15th
PRIMARY NESTING SEASON - March 15th- July 15 - NO CRP Contract Management ALLOWED
County Committee Nomination Deadline - August 1st
Apply for Livestock Forage Program - Call office for appointment.
FARM LOAN Personnel in Kiowa County Service Center - Tuesday, July 10th
FSA County Committee Meeting - TBA
2018 ARCPLC Enrollment deadline - August 1, 2018
Continuous CRP Grassland Signup 201 - Currently no deadline, apply any time.
Disclaimer: Information in this UPDATE is pertinent to Kiowa County FSA only. Producers reading this and that do not have FSA interest in Kiowa County are advised to contact their local FSA Office.
I am hoping that by the time producers are reading this; the area has received some much needed moisture. The forecast is predicting some moisture headed this way from Hurricane Bud up from the Gulf. We can sure use it.
2018 ACREAGE REPORTING
Producers are urged to call the office and make an appointment to complete acreage reports. July 15this approaching fast and wheat harvest is around the corner. Once harvest begins producers won't want to take the time out of the day to complete the acreage reports, so please do it now.
The following exceptions apply to acreage reporting dates:
If the crop has not been planted by the applicable acreage reporting date, then the acreage must be reported no later than 15 calendar days after planting is completed.
If a producer acquires additional acreage after the applicable acreage reporting date, then the acreage must be reported no later than 30 calendars days after purchase or acquiring the lease. Appropriate documentation must be provided to the county office.
REPORTING PREVENTED PLANT
Producers needing to report prevented planting acreage must submit an acreage report and complete applicable paperwork, no later than 15 days after the final planting date for the applicable crop. Final plant for corn was May 31st, 15 days after was June 15th, therefore if a producer wishes to report prevent plant for corn will be assessed a late-file fee of $46.00 per farm. The final plant date for grain sorghum and sunflowers is June 20th, deadline to timely file and report the acreage will be July 5th . Proso millet final plant date is June 25th, deadline to timely file will be July 10th. Again, if prevented planting acreage is reported beyond 15 days; late file fees will be assessed.
REPORTING FAILED ACREAGE
Producers are encouraged to complete a CCC-576 form for acreage history credit for failed acreage. When completing the acreage report, please indicate to the employee that the farm(s) does have failed acres.
LIVESTOCK FORAGE PROGRAM - KIOWA COUNTY ELIGIBLE
The office has received a number of 2018 (LFP) Livestock Forage Program applications from area livestock producers. While processing those applications, it is apparent that producers ARE NOT reporting leased or purchased grass acres timely. The acreage reporting deadline for native grass is November 15theach year. Producers have 30 days to report new leased or purchased land to the FSA Office without be assessed a late-filed acreage reporting fee. The office has also noted that there are landowners who are leasing out grass acres and conveying risk and control to the tenant, and not reporting those changes to FSA. We cannot emphasize the importance of timely, accurate acreage reports, failure to report can result in loss of benefits to the landowner and the tenant.
The FSA Office will be scheduling appointments for producers to apply for the program. Producers need to call the office @ 719-438-5851 and schedule an appointment. Producers will be required to provide the following on the date of their appointment.
Proof of ownership or lease of eligible current inventory livestock.
Receipts of livestock purchases. Livestock purchased after March 22ndwill not be considered eligible livestock for the program. Livestock must have been owned or leased 60 days before the beginning date the qualifying drought, for Kiowa County that date is May 22nd.
Grazing leases
DROUGHT MONITOR
There were not any noticable changes made to the Drought Monitor this week; Kiowa County remains in the D3 drought intensity. Kiowa County was designated a D2 intensity on March 6 and moved to D3 on May 22. Drought updates from across the state are available in this article.
Kiowa County FSA Committee
Destiny Haase - LAA 2 - Central area - Committee Chairperson
Sean Harkness - LAA 1 - East area - Committee Vice-Chairperson
Michael Zimmerman - LAA3 - West area - Committee Regular Member
USDA SERVICE CENTER CONTACT INFORMATION
Telephone 719-438-5851 FSA (Ext 2), NRCS (Ext 3). FSA Fax number: fax2mail 844-332-7501
E-mail individuals firstname.lastname@co.usda.gov (Example firstname.lastname@co.usda.gov, dawna. weirich, charla.ferris, hallie.barlow, marvin.watson, marlin.miller
KIOWA COUNTY FARM LOAN CONTACT INFO - CALL FOR AN APPOINTMENT
Telephone 719-336-3437 (ext2) Mary Rhoades, mary.rhoades@co.usda.gov
SERVICE CENTER OFFICE HOURS:
Monday through Friday - 8:00 a.m. to 4:30 p.m. Friday, by appointment only.
FSA INFORMATION
For information on programs visit our website located at www.fsa.usda.govor like us on Facebook, or follow us on Twitter.