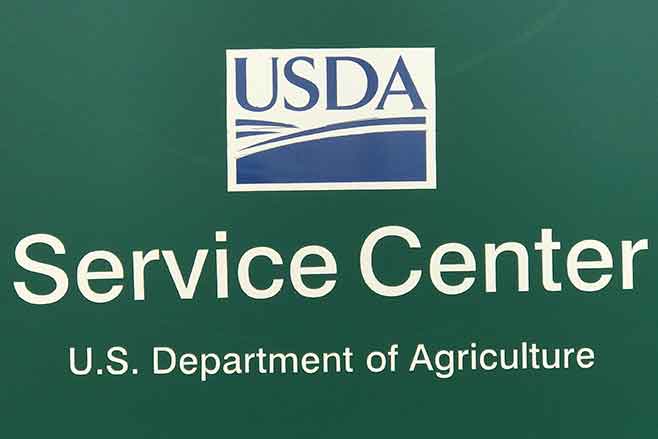 Published
Sunday, October 21, 2018
IMPORTANT DATES TO REMEMBER:
NOVEMBER 13th- FARM LOAN Personnel in Eads Service Center County Committee Meeting - TBA
NOVEMBER 15th- ACREAGE REPORTING DEADLINE - 2019 planted wheat, perennial grasses, alfalfa and triticale
DECEMBER 1st- NAP COVERAGE DEADLINE- NATIVE GRASS
DECEMBER 31, 2018- DEADLINE to apply for 2018 (LFP) Livestock Forage Program - EXTENDED to JANUARY 30, 2018
JANUARY 15, 2019- MFP - Market Facilitation Program- Part D of CCC-910 form signature deadline.
Continuous CRP Grassland Signup 201 -Offers being accepted - $5.00 per acre rental rate
Disclaimer: Information in this UPDATE is pertinent to Kiowa County FSA only. Producers reading this and that do not have FSA interest in Kiowa County are advised to contact their local FSA Office.
ATTENTION: OPERATORS - CALL THE FSA OFFICE TO SCHEDULE AN APPOINTMENT FOR 2019 FALL ACREAGE REPORTING.
2019 ACREAGE REPORTING
The 2019 farm folders are ready and waiting for the operators to visit the office and complete the 2019 Acreage Report for fall seeded crops, mainly wheat and triticale. The November 15thacreage reporting date also applies to perennial forage (native grass). The following information is required to be part of the acreage report:
Crop and type planted - ex. Wheat, hard red winter or white wheat
Acres planted
Intended use of the crop- graze, grain, forage or cover
Planting Date
Share of crop
Disclose any new leases of cropland and/or native grass for grazing.
TIMELY & ACCURATE ACREAGE REPORT
An accurate and timely acreage report is the responsibility of the operator, owner or other producer of the farm. County Offices will use FSA-578 to collect data relating to crops. The data collection is to:
determine compliance with farmprograms
verify compliance with HELC and WCprovisions
collect data for FSA and other USDA agencies for programdecisions
determine producer eligibility for loans and LDP's
determine crop and producer eligibility for ARC/PLC, ELAP, Livestock ForageDisaster
Program enrollment or application is not a requirement for acreage reporting. Persons or legal entities who may not be program participants or persons seeking benefits at the time the person or legal entity wants to submit the acreage report is being filed must be permitted to file FSA-578, to report their crop acreage. The reason a person or legal entity wants to submit an acreage report is irrelevant to FSA's processing of the report.
During the 2018 Livestock Forage Program (LFP) program earlier this summer, the FSA office became aware of numerous grass leases that had not been disclosed prior to the county becoming eligible for LFP. Leases that convey control of the land and risk to the lessee should be reported to the FSA office within 30 days of acquiring the lease. Failure to report the lease timely can result in denial of benefits for both the lessor and the lessee. Currently, FSA procedure allows for late-filed acreage reports, however there is no guarantee that procedure will be in place in the future.
OCTOBER PAYMENT CYCLE
The 2018 CRP annual rental payments and the 2017 PLC payments have issued and should be in producer's bank accounts. Again, the 2017 ARC-CO program did not trigger on any commodities in Kiowa County. If producer's have not received their payment and are due a payment, contact the office to determine the status of the payment.
FUNDING FOR PROGRAMS
With the expiration of the 2014 Farm Bill, funding for certain programs is not available. When funding is not available, county offices cannot issue payments for those programs. Currently, CRP cost shares payment cannot be issued to producers who have submitted receipts for completed contract maintenance or completed a required practice on the contract. The cost share payments won't be authorized until funding is restored.
Kiowa County FSA Committee
Destiny Haase - LAA 2 - Central area - Committee Chairperson
Sean Harkness - LAA 1 - East area - Committee Vice-Chairperson
Michael Zimmerman - LAA3 - West area - Committee Regular Member
USDA SERVICE CENTER CONTACT INFORMATION
Telephone 719-438-5851 FSA (Ext 2), NRCS (Ext 3). FSA Fax number: fax2mail 844-332-7501
E-mail individuals firstname.lastname@co.usda.gov (Example firstname.lastname@co.usda.gov, dawna. weirich, charla.ferris, hallie.barlow, marvin.watson, marlin.miller
KIOWA COUNTY FARM LOAN CONTACT INFO - CALL FOR AN APPOINTMENT
Telephone 719-336-3437 (ext2) Mary Rhoades, mary.rhoades@co.usda.gov
SERVICE CENTER OFFICE HOURS:
Monday through Friday - 8:00 a.m. to 4:30 p.m. Friday, by appointment only.
FSA INFORMATION
For information on programs visit our website located at www.fsa.usda.govor like us on Facebook, or follow us on Twitter.