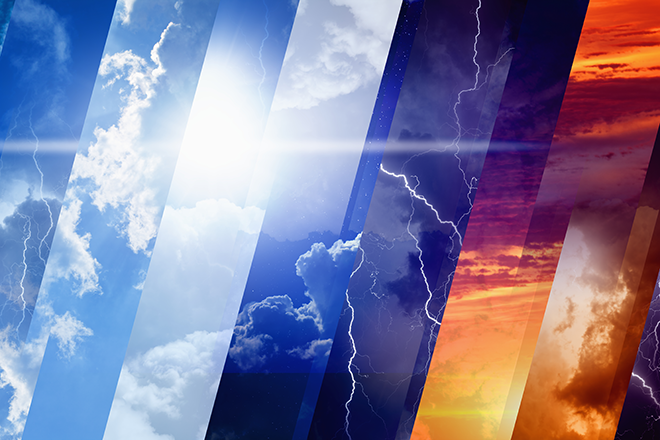 Published
Friday, January 27, 2017
By Chris Sorensen
Temperatures begin to rise going into the weekend, kicking off a seasonably mild period expected to last at least late into the week.
Look for a sunny but breezy Friday as northwest winds rise to the 15 to 20 mile-per-hour range, with gusts to 30 mph possible. The high will be in the upper 30s before falling to the upper teens overnight
The warmup becomes more noticeable Saturday, with temperatures moving to the mid-40s, then dropping to the mid-20s overnight as a persistent dry northwest flow moves across the region. Winds will remain out of the north at 10 to 15 mph.
Winds pick up again Sunday, reaching the 15 to 20 mph range. The high continues to trend upward to the mid-50s - above normal for this time of year - before dropping back to the mid-20s overnight.
Look for a high around 60 Monday under sunny skies as an upper ridge shifts eastward from the northwest. The overnight low returns to the mid-20s.
The high falls back to the mid-50s Tuesday, with an expected overnight low around 20. Temperatures drop off further Wednesday to the mid-40s as a shallow cold front drops into the area from the north. The high rebounds to the low 50s Thursday as the flow aloft becomes more westerly and cold air retreats.
Looking to next weekend, another round of active weather may enter the forecast. Check back Sunday for updates.
KiowaCountyPress.net now offers a free forecast update emailed to you each morning around 6:00 a.m. To begin receiving forecast updates, send an email to kiowacountypressweather+subscribe@googlegroups.com for quick signup process. Then, just reply to the message sent back to you to confirm your email address, and you're done! You'll start receiving the weather forecast the next morning. There's no cost, and you can unsubscribe any time.