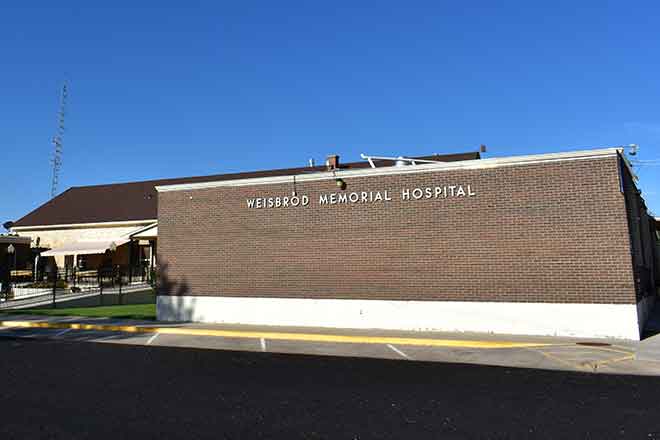 Published
Sunday, March 14, 2021
Weisbrod Hospital Auxiliary members were glad to get together to hear reports and plan more projects. Those ladies attending were Cleta Englehardt, LaVerle Kelley, Diana Flory, Linda Trosper, Loretta Seibel, Alice Glover, Madonna Pollreis, Doris Lessenden, guest, Diane O'Brian, and Tanya Lane, Activity Director.
Doris and Loretta read the Secretary and Treasurer's Reports respectively which were approved, Diana Flory reported that she and Lola Igou audited the Treasurer's Books which were correct and in order.
Linda Trosper was commended for her years of diligent work to ask people to loan quilts or afghans for the display rack in the Nursing Home that takes a lot of her time and effort. Linda was asked if she wanted us to pay for the nice "Ad of Thanks" to the persons who had loaned precious quilts or family heirlooms. She said that she "just wanted to do this as a service."
She asked ladies to look to see if they had doilies or embroidered items they could loan in May. Plus, Linda also gave everyone a large Chocolate Kisses wrapped in red foil which she had planned to give us at the cancelled February meeting.
Linda brought the metal engraved memorial plaque for us to see. The plaque is in memory of Renee Woods and Eldon Reinert, which will be hung on the stone wall after the new awning is hung at Weisbrod.
Members signed up for "Birthday" - buy gifts- for the 13 residents in the coming months.
During Tanya Lane's Activity Report, she told us some details of how the residents were moved with their beds to the Prairie Pines Assisted Living Facility. We are thankful that they had enough space to be moved in our town.
Many medical departments of the community, along with Shelley Englehardt of the Emergency Preparedness Department, facilitated in the moving process. The Weisbrod dietary prepared the meals and took them to Prairie Pines as well as the nursing staff had to take lots of supplies along.
Linda Trosper reported that Debbie Kliesen, who is very artistic, has made May Day baskets for the Cheyenne Manor where her 105-year-old grandmother lives. Debbie has volunteered to make baskets for our residents too.
Linda has also reserved the Community Building in the hope that we can host the November Bazaar.
The next Auxiliary meeting will be Tuesday, April 13, at 11:00 a.m. in JJ's Restaurant's meeting room. People are invited to come, have lunch, and participate with us to make lives at the Long-Term Home more pleasant.