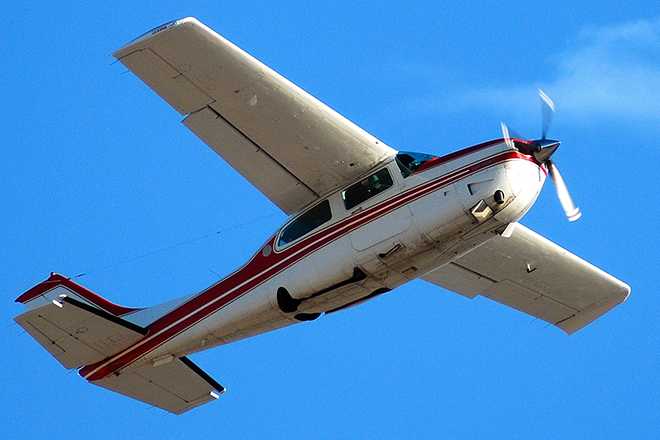 Published
Thursday, February 8, 2018
The pilot of a plane that crashed in Kiowa county was likely under the influence of alcohol and prescription medications at the time of the incident according to a report from the National Transportation Safety Board.
The crash occurred shortly after 9:00 a.m. May 18, 2016, near Sheridan Lake.
About 20 minutes before the crash, the pilot, John Lee Stubblefield, 64, of Meridian, Idaho, had radioed "...I'm going down and I'm going down hard." An air traffic controller believed Stubblefield as experiencing a lack of oxygen, carbon monoxide poisoning or a medical condition which affected his speech and control of the plane.
The controller attempted to continue talking with the pilot, however Stubblefield did not respond.
Stubblefield put the plane, a Cessna P210N built in 1978, through a series turns, climbs and descents according to radar data and, at one point, radioed "I can show you what a P210 can do."
The NTSB report noted that the plane is not approved for aerobatics and spins.
Investigators were unable to find mechanical issues with the plane following examination of its systems. It had received an annual inspection less than a year before the crash and had been flown for about 28 hours since the inspection.
The El Paso County Coroner's office determined Stubblefield died of multiple blunt force injuries. Tests found alcohol and three drugs - diphenhydramine, zolpidem and lorazepam - in Stubblefield's body. A half-full bottle of vodka, as well as "numerous prescription and over-the-counter medications" were found in the wreckage.
Rules prohibit pilots with a blood alcohol level above 0.04 from flying. Stubblefield's level was 0.247, more than six times the official limit. The report states that even low levels of alcohol can significantly impair a pilot.
Zolpidem is a prescription sleep aid and is not to be used with alcohol. Lorazepam is a prescription often used to treat anxiety that can also interact with alcohol. Diphenhydramine is available without a prescription and is used to treat allergies and as a sleep aid.
Stubblefield surrendered his pilot certificate in 2000 after a landing incident at an Idaho airport. He was found to have been under the influence of alcohol at the time, with a blood alcohol level of 0.26. He regained his certificate in 2005.
Stubblefield was the only person on board the plane at the time of the crash. The report concluded that plane had been put through maneuvers that exceeded its capability, and that severe impairment from alcohol and prescription medication as well as pilot judgement, performance and control led to the crash.