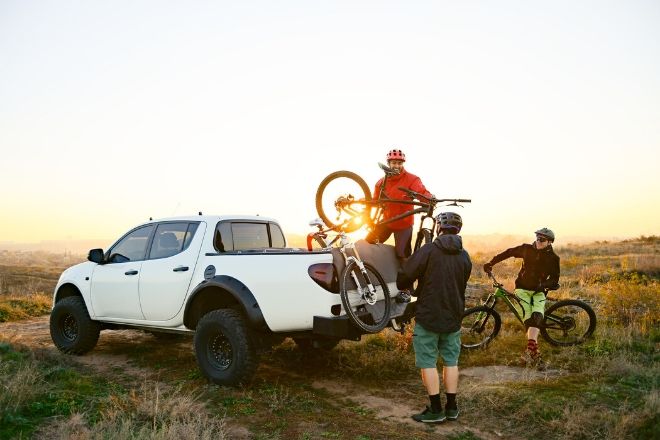 Published
Thursday, June 25, 2020
Off-roading is an exciting activity for people of all ages. Off-roaders drive their pickup trucks over large boulders, through muddy riverbeds, over sand dunes, or over any other unsurfaced path. While many modern trucks have specific off-road trims, every truck owner should consider some aftermarket pieces. These are some of the best off-roading modifications for pickup trucks.
Off-Road Tires
Just like how you should wear athletic shoes in a gym, your truck should sport off-road tires. These tires are specifically designed for off-roading with deep grooves, tread, and grip. This allows you to travel over obstacles easily without risk of getting stuck. Fallen branches, boulders, and mud are easier to drive over with these tires. It doesn't matter if these are normal or large-size since the grooves allow for better traction.
Improved Suspension
Another off-road essential is improved suspension. Many modern trucks, like the Ford Raptor, already have off-road-capable suspension systems. However, trucks that lack this feature must have them for any serious excursion. Consider that factory suspension systems are built for road and light off-road travel. Any serious off-road enthusiast knows that for comfort and stability, you need heavy-duty hardware. This includes new bushings, springs, shock absorbers, arms, bars, and other suspension parts. You'll also need a new suspension upgrade if you're raising your truck with a lift kit. Since this raises your truck's body frame, you need new shock absorbers to handle any rough driving.
Body Protection
Every truck owner knows that for serious performance and style, some of the best off-roading mods for pickup trucks come in the form of body protection--armor for your truck. Driving over natural terrain, mud, dirt, and grime can affect your truck's aesthetics. It can also lead to serious body damage. Body protection reduces any additional repairs from off-roading and can raise your truck's value. The most common types of body protection to consider are skid plates, pans, fender flares, and grille guards. These aftermarket parts come in many different styles to fit any old or new truck.
Lighting
Of course, lighting fixtures are designed to increase your navigation and visibility. The top contender in this realm is a lightbar. Be sure to know the proper tips when choosing a lightbar for the best budgetary and power specifications. With many top brands available, you can find different patterns and beams in a variety of colors to choose from. For instance, flood beams are short, wide beams, whereas spot beams are narrow but reach far distances. These can come in different colors like white, yellow, blue, red, or green, depending on the brand and bulbs. Additionally, always opt for LED lightbars, as these provide the strongest and most energy-efficient lighting solutions.
Winch
Last, winches will help you escape a stuck situation. While not exactly essential, they guarantee safety during dangerous travel. Winches will help if you've overestimated your off-road abilities. Whether it's to escape a riverbed or freeing yourself from a log whose size you misjudged, winches become invaluable modifications for the off-roader.