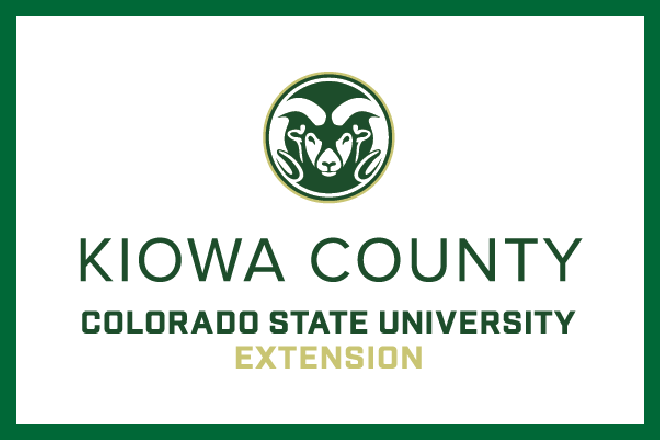 Published
Friday, June 21, 2019
Hello Kiowa County!
It is my great pleasure to be writing this report as your new extension agent. If some of you don't know, I was hired for this position the first of April. My predecessor was Jeramy McNeely, who is still with extension, but has moved to Fremont County. I wish him the best and want to thank him for all the help he has given me starting out.
It has been a very busy and eye-opening few months for me as I have come to realize all the subjects that the extension program offers. In the future I hope to come to understand them and bring them to Kiowa County for our benefit.
June has been an extremely busy month which is only half over. June first was goat and sheep weigh ins. In goats, there were a total 50 weighed in: 35 in 4-H and 15 in Future Farmers of America (FFA). For sheep the total was 24, with 19 in 4-H and five in FFA.
I have also been tagging swine projects at member's homes or where they keep their projects. There have been 40 pigs tagged in. On the 4-H side there were 27 and the FFA had 13 tagged. In February, a total of nine beef projects were weighed in. There were six in 4-H and three in FFA.
The Kiowa County 4-H council has also been busy. They have already provided a concession stand for the Fair Board's dog races in April, and the Kiowa County Riding Club's sorting the first of June. They are also planning many more this summer for other Fair Board events. I hope that everyone can attend these and support the 4-H and the events. I would like to thank Gloria Trosper and all the others for doing the prep work for the concessions stand. I know that it is a big job.
In this past week, I attended the District 6 Shooting Sports meeting with Mark Nelson, one of the shooting sports leaders. This meeting was to go over plans and prepare for the district shoot-off, which will be held June 29 in La Junta. Many of our members will compete in a variety of disciplines that range from 22 rifle to compound bows. This will be a fun and exciting event for members as well as parents and me.
I also attended the District 6 Creative Cooks and Cake Decorating competition in Lamar Thursday evening. This was well represented by six of Kiowa County's members. All of them did a great job. It was a great event, with a very tasty sharing of recipes to wind it up.
Kiowa County Results
Cake Decorating Intermediate Division: Katherine Trosper, Blue Grand Champion
Junior Division: Mia Crow, Blue; Grand Champion
Hailee Trosper, Blue; Reserve Champion
Creative Cooks Senior Division: Emily Nelson, Blue; Grand Champion
Intermediate Division: Alexa Nelson: Blue; Grand Champion
Junior Division: Clayton Nelson: Blue; Grand Champion
All of these members qualified to compete at Colorado State Fair. I want to say congratulations and great job to these members.
The busy month of June doesn't stop there. I along with Molly Stolzenberger, Emily Nelson and Chase Stolzenberger will be attending 4-H State Conference at the Colorado State University campus in Fort Collins. Molly will be going up early because she is on the state officer team. I want to say thank you and great job. Emily and Chase will be attending workshops of many different subjects including leadership.
This will be my first trip back to campus in a long time. I am excited to see all the changes that have been made, including the new stadium.
When returning from this trip, we will be dropping Emily off in Greeley with her family. June 22, she will be flying to Washington, D.C., to represent Kiowa County at Citizenship Washington Focus. This is a wonderful trip that was one of my most memorable ones. She will have the joy to see many of the monuments there and also attend many great leadership workshops.
Thank you all for the support.
Tearle Lessenden, Kiowa County Extension Agent