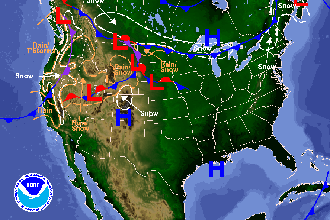 Published
Monday, March 21, 2016
UPDATE: The Red Flag Warning has been extended two hours - from 11:00 a.m. to 9:00 p.m. Tuesday)
Spring has started with a mixed bag of weather conditions forecast for the week.
Tuesday (March 22, 2016) will see a Red Flag Warning for the elevated fire danger throughout the afternoon as temperatures approach 80 degrees, humidity drops and southwest winds reach 25 miles per hour. In some portions of southeast Colorado, winds could gust to 45 mph.
By Tuesday night, a chance of rain sets in until 4:00 a.m. before turning to snow.
The potential for snow and rain continue Wednesday into the evening. Snow is likely before 8:00 a.m. before changing to rain - then back to snow again after 7:00 p.m. North winds of 25-35 miles per hour will dominate the day, gusting to 50 mph, before moderating to 5-10 mph later in the night.
High temperatures will only reach the mid-40s Wednesday, then the mid-50s to low 60s for Thursday and Friday.
The next chance of precipitation - limited at the moment - comes Friday night when the potential for rain and snow return.
Tuesday's Red Flag Warning means that critical fire weather is expected to occur shortly. The combination of strong winds, low humidity and dry fuels will result in the potential for extreme fire behavior. Outdoor burning is strongly discouraged.