Image
Flash flood risk, tornado potential return to eastern Colorado Sunday
National Weather Service offices in Boulder and Pueblo are cautioning people in the eastern half of Colorado to be alert for potential flash flooding Sunday afternoon as monsoon moisture continues to stream across the state.
Flood watches are expected to be in effect starting as early as 12:00 p.m. from Larimer and Weld counties in the north central part of the state to Las Animas County along the New Mexico border. Kit Carson, Cheyenne, and Kiowa counties along the Kansas border mark the eastern boundary for watches in the state. Late Sunday morning, Bent and Prowers counties were added to the watch area. Watches may remain in effect as late as 3:00 a.m. Monday for eastern counties.
Image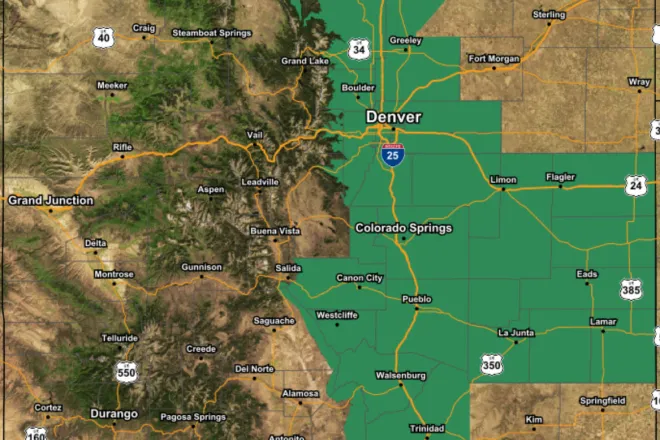 Slow-moving strong to severe storms are possible by early to midafternoon, with some capable of producing one to two inches of rain in less than an hour. Some areas may see as much as three inches of rain. Storms will develop along the Colorado foothills, spreading to the eastern plains as the afternoon progresses.
Image
Storm activity is expected to continue into the late evening hours, particularly over the plains.
Along with heavy rains, storms in the east central counties could produce wind gusts up to 70 miles per hour. Isolated Landspout tornadoes are also possible, while hail potential is limited.
Image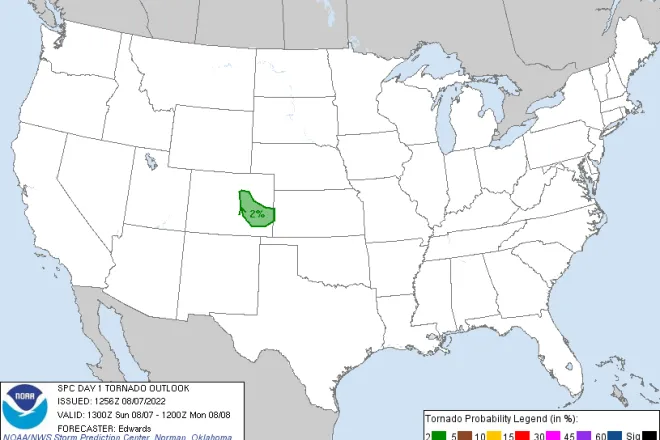 According to the NWS Weather Prediction Center, there is a 15 percent chance that rainfall amounts will exceed flash flood guidance across much of eastern Colorado Sunday.
Image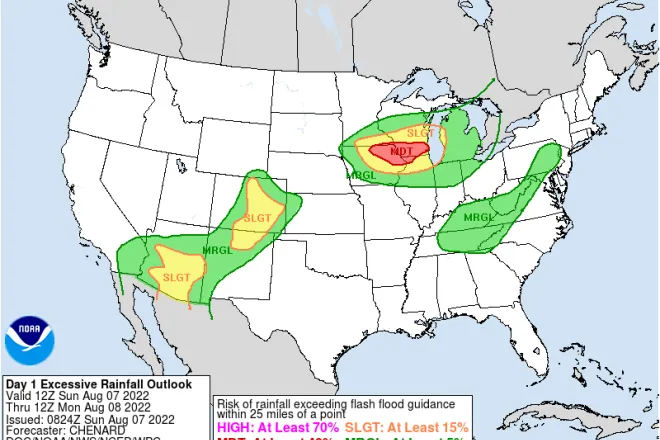 Outside of thunderstorms, the east central portion of Colorado could see one-quarter to one inch of rainfall.
Flash flooding on recent fire burn scars is of particular concern. The NWS Pueblo office notes a significant risk for the Spring, Junkins and Hayden Pass scars starting around 6:00 p.m. Sunday. The risk continues for the Spring and Junkins scars until midnight, while the risk for the Hayden Pass scar drops to limited around 9:00 p.m.
Further north, the NWS Boulder office is noting an elevated risk for flooding on the Cameron Peak and Calwood burn scars from 12:00 p.m. to 10:00 p.m.
Image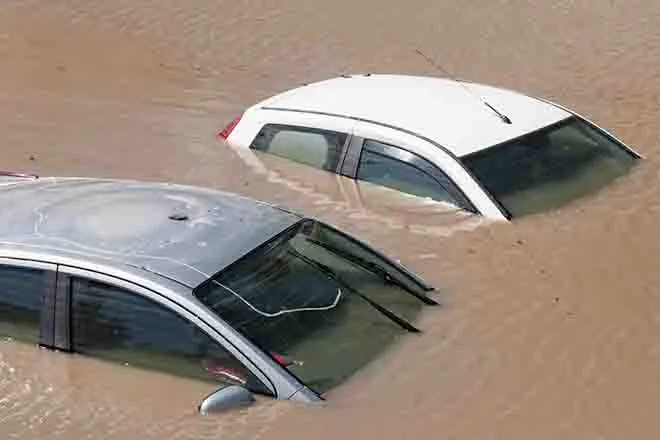 In southeast Colorado, the NWS Pueblo office expects the heavy rain threat to push south and east this evening, with the southern mountains and southern Interstate 25 corridor region, along with the eastern plains, likely seeing the heaviest rainfall. The greatest amounts will likely fall during the evening hours, with the heavy rain threat decreasing during the early morning.
The NWS reminds people to remain informed about weather conditions today, and have several ways to received updates as conditions change. Never attempt to drive through flooded roadways.