Image
Grace Lutheran Church Weekly Devotion - Matthew 25:1–13
Matthew 25:1–13
[Jesus said:] "The kingdom of heaven will be like ten virgins who took their lamps and went to meet the bridegroom. 2Five of them were foolish, and five were wise. 3For when the foolish took their lamps, they took no oil with them, 4but the wise took flasks of oil with their lamps. 5As the bridegroom was delayed; they all became drowsy and slept. 6But at midnight there was a cry, 'Here is the bridegroom! Come out to meet him.' 7Then all those virgins rose and trimmed their lamps. 8And the foolish said to the wise, 'Give us some of your oil, for our lamps are going out.' 9But the wise answered, saying, 'Since there will not be enough for us and for you, go rather to the dealers and buy for yourselves.' 10And while they were going to buy, the bridegroom came, and those who were ready went in with him to the marriage feast, and the door was shut. 11Afterward the other virgins came also, saying, 'Lord, lord, open to us.' 12But he answered, 'Truly, I say to you, I do not know you.' 13Watch therefore, for you know neither the day nor the hour."
Image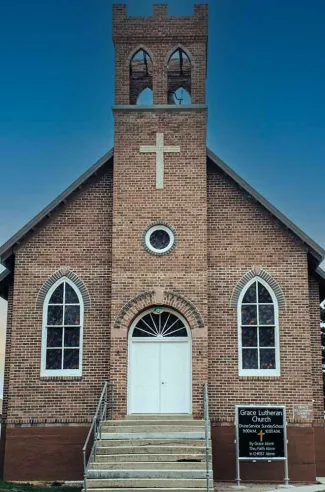 Waiting is not easy for us.  There is the risk we might forget about what we are waiting for or worse, lose hope.  Jesus' parable is a bit scary—almost terrifying actually,  but it is also filled with hope.  It is a dramatic reminder that Jesus is coming.  The world does not believe Jesus is really coming.   Wickedness is increasing throughout the world. The world has the attitude "live today as if this life is all there is, because once you are dead, there is nothing else."  Saint Paul calls these people "who have no hope" (1 Thessalonians 4:13).  And human nature follows the world too easily.  Jesus says in this parable, both the wise and the foolish virgins fell asleep (5).  What the Lord is pointing out is that none of us is particularly good at waiting.  By nature, we forget that what is not happening now, can still happen.  They are living outside the kingdom of heaven, unprepared for what should be expected—Christ's return and judgment.
What is the kingdom of heaven?   It is wherever Christ Jesus is. Christ declared, "Where two or three are gathered in My name, there am I among them" (Matthew 18:20).  Jesus is here in His Word.  He is here in the waters of Holy Baptism.  He is here in the bread and wine of Holy Communion.  He said, "This is my body given for you."  This is "My blood shed for you for the forgiveness of sins" (cf. Matthew 26:26, 28).  And Jesus lives and serves in the world through every Christian, as Saint Paul says, "It is no longer I who live, but Christ who lives in me" (Galatians 2:20).  And where Christ is there is forgiveness of sin, peace, and comfort, hope and salvation, restoration and new life, freedom from the curse of sin, and resurrection.  This is the kingdom Christ invites all people to be His.  He invites you, to take you out of sin through His forgiveness.  He invites you out of eternal death in hell and to new life and His eternal marriage feast.  While the entire world groans, suffering in this sin-filled world—in the kingdom of heaven God promises rescue to all who repent and believe in Him. 
Do you believe Jesus "the bridegroom" (cf. Matthew 9:14-15) is coming?  As Christians we do believe the Lord is coming!  We believe God's promises and warnings are certain.  Jesus Christ, the Son of Man, kept His promise to die for the world's sin and then made good on the toughest promise: to rise on the third day.  If the Lord fulfilled those promises, He shall surely keep His promise to return.  On the Last Day, whether it is in the morning, or at midnight, "the Lord Himself will descend from heaven with a cry of command, with the voice of an archangel, and with the sound of the trumpet of God" (1 Thessalonians 4:16).  Then everyone will stand or fall according to their faith.  Anyone lacking faith in Jesus Christ will be excluded from the marriage feast of the Lamb.  How terrifying it will be to hear those words the foolish virgins hear, "Truly, I say to you, I do not know you" (12). 
Through His Word, the Lord comes among us to fortify us for the wait, assuring us He really is coming.  He tells us of the unimaginable resurrection joy beyond that open door!  There we will stand before the throne of God, sheltered with His presence, and He will wipe away every tear from [our] eyes (cf. Revelation 7).  And the Revelation to St. John closes with Jesus promising, "Surely I am coming soon."  The Apostle John adds this prayer, "Amen, Come, Lord Jesus!" (22:7, 20).       
825 North 1st West
Cheyenne Wells, CO, 80810-0728
Sunday Service begins at 9:00AM