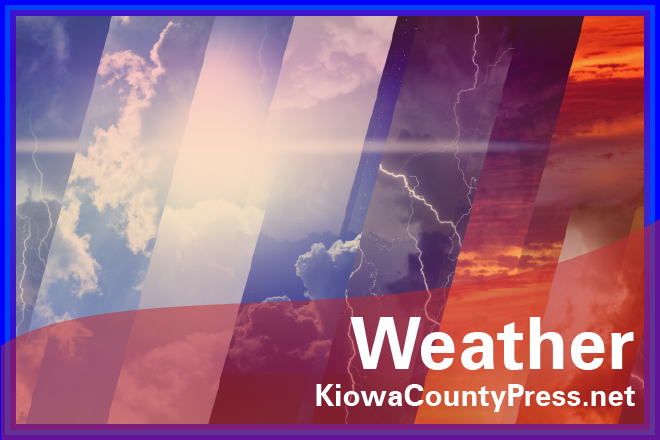 Published
Saturday, June 1, 2019
Saturday and Sunday are expected to see warm temperatures with chances of thunderstorms - some potentially severe - for the weekend in Kiowa County.
Saturday's highs are predicted to be a degree or two warmer than Friday, reaching the low and mid-80s under sunny skies for the first half of the day.
Light wind will start the day out of the north before shifting to the south in the afternoon. The strongest gusts will be in the Arlington and Haswell areas later in the day.
Thunderstorms are possible Saturday afternoon, with a 30 percent chance of storms across most of Kiowa County. The risk for storms is mainly after 5:00 p.m. and continues over night, particularly for Eads, Brandon, Sheridan Lake and Towner, where chances increase to 40-50 percent. Overnight lows will be in the mid-50s.
Sunday's conditions across the county are expected to be similar, though the chance for thunderstorms is predicted to decrease slightly. Some of Sunday's thunderstorms could be severe, particularly for southwest Kiowa County. Hail larger than one inch will be possible. Check back for updates Sunday morning.
At 6:15 a.m. Saturday, a wind gust of 10 mph was the strongest recorded since midnight in central Kiowa County. The temperature was 55 degrees. Friday's high was 85.
Currently, KiowaCountyPress.net Live Weather from downtown Eads shows WNW wind at 2 mph. The temperature is 49.
Elsewhere in Colorado, the spring warmup is bringing and increased potential for mountain snow runoff. Warm days and mild nights can cause river and steam levels to increase rapidly and may cause flooding in some areas over the coming days.
Kiowa County Weather Outlook for June 1, 2019

Community

High

Low

Chance of Precip

Wind Gust

Direction

Arlington

85

54

30

35

SSE

Haswell

82

55

20

20

SE

Eads

82

53

30

15

SE

Brandon

82

54

30

15

ESE

Sheridan Lake

81

54

30

15

ESE

Towner

81

56

30

15

ESE
Weather information updated throughout the day is available at http://weather.KiowaCountyPress.net.