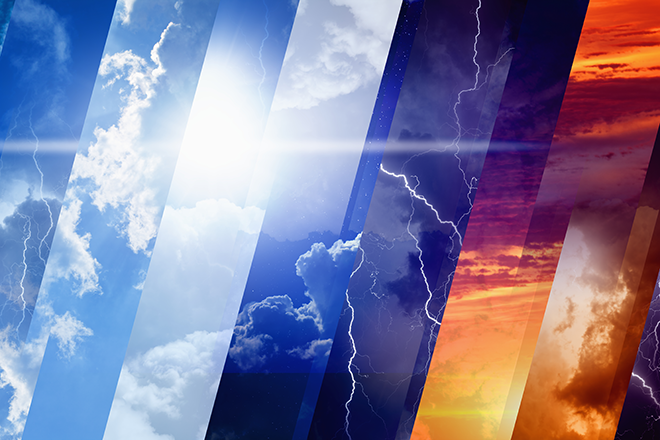 Published
Sunday, June 9, 2019
Look for much cooler temperatures and north winds Sunday across Kiowa County.
High temperatures for the day should be in the mid-60s for most areas, while Arlington will reach the upper 60s. Temperatures will be off by nearly 30 degrees from Saturday's high, which reached 95 in Eads.
Clouds will gradually decrease throughout the day, becoming mostly sunny by this afternoon.
Wind will be out of the north, with gusts as high as 25 miles per hour for the western half of the county, while Brandon and Sheridan Lake can expect gusts up to 35 mph. Towner may see winds reaching 40 mph at times.
Overnight, look for the coolest nighttime lows in several week as the temperature falls to around 40 across much of Kiowa County. Haswell and Arlington will be slightly warmer.
After a day of storms, hail, and tornadoes in northeast Colorado, which included placing 12 counties under a severe thunderstorm watch, Kiowa County is not expected to see rain Sunday. The next chance of precipitation is predicted for Tuesday evening.
High temperatures for the coming week are expected to be in the low 70s to low 80s
Currently, KiowaCountyPress.net Live Weather from downtown Eads shows N wind at 1 mph. Saturday, a wind gust of 38 mph was recorded just before 9:00 p.m. The temperature is 76, with 0.00 inches of rain so far today. Yesterday, 0.00 inches of rain was recorded, with a high of 95. The strongest wind gust since midnight was 15 mph, while the high temperature for the day so far was 96 at 04:24 PM.
Elsewhere in Colorado, spring snowmelt and runoff continues to push streams and rivers to near flood stage. Flood warnings are in effect for parts of Mineral, Rio Grande, and Conejos counties. Flood advisories are in place along portions of the Gunnison, Mancos, La Plata and San Juan Rivers in southwest Colorado.
A flood watch is in effect through Wednesday morning for parts of Costilla, Alamosa, Rio Grande, Conejos and Saguache counties. Minor to moderate flooding is possible.
In northwest Colorado, a late-season freeze watch is in effect for parts of Jackson, Moffat and Rio Blanco counties Sunday night through Monday morning. Temperatures may dip as low as 28 degrees.
Kiowa County Weather Outlook for June 9, 2019

Community

High

Low

Chance of Precip

Wind Gust

Direction

Arlington

68

45

0

25

N

Haswell

66

43

0

35

N

Eads

66

42

0

25

N

Brandon

66

40

0

35

N

Sheridan Lake

65

40

0

35

N

Towner

65

40

0

40

N
Weather information updated throughout the day is available at http://weather.KiowaCountyPress.net.