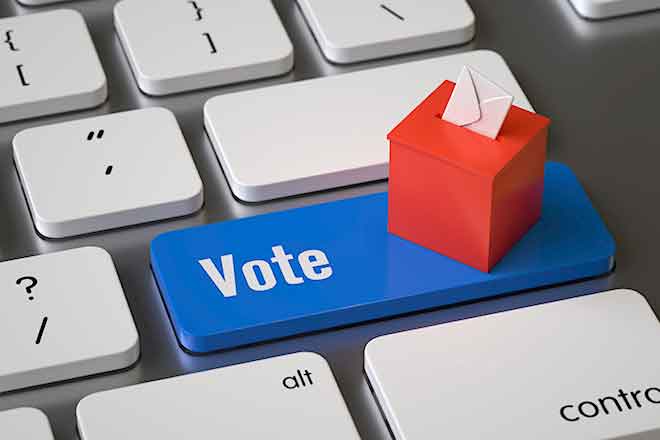 Published
Friday, October 9, 2020
A full-size version of the sample ballot can be downloaded in Adobe Acrobate (PDF) format here or at the link below.
NOTICE OF KIOWA COUNTY GENERAL ELECTION
KIOWA COUNTY, COLORADO
Date of Election: November 3, 2020
Mail Ballot Election
In accordance with the provisions of the Colorado Revised Statutes and the Colorado Constitution, notice is hereby given that a General Election will be held in the State of Colorado, County of Kiowa, on Tuesday, the 3rd day of November 2020. The election will be a mail ballot election. Ballots will be mailed to each active registered elector in accordance with C.R.S. Section 1-7.5-107(3) (a) (I). Ballots may be mailed back to the Kiowa County Clerk and Recorder, PO Box 37, Eads, CO 81036, or delivered to the Kiowa County Courthouse at 1305 Goff St., Eads, CO, during regular office hours of 8:00 a.m. to 4:15 p.m., Monday through Friday, 8:00 a.m. to 12:00 p.m. the Saturday before the election (10/31/2020), and from 7:00 a.m. to 7:00 p.m. on Election Day (all ballots must be received by 7:00 p.m. on Election Day). This office is also the location to apply for a mail-in ballot if you are going to be absent from home during the election or a replacement ballot, if needed.
Not all of the candidates and questions will appear on every ballot. The following is a complete listing of the entities with candidates or issues for Kiowa County, Colorado:
CERTIFICATION
I, Delisa L. Weeks, County Clerk and Recorder of the County of Kiowa, State of Colorado, do hereby certify that the foregoing Ballot Content contains; Federal, State, Local Candidate races of every person who is entitled to receive votes and Ballot Questions/Issues as such General Election
IN WITNESS WHEREOF, I have hereunto set my name and affixed the seal of the County of Kiowa, this 1st day of October, 2020.
Delisa L. Weeks
Kiowa County Clerk & Recorder
Kiowa County, Colorado
Published 10/9/2020
In the Kiowa County Press
One Time Publication
****NOTICE-Due to COVID-19 if you need to bring your ballot to the Courthouse you will need to wear a mask, sanitize hands and have temperature taken before dropping ballot off. Please be respectful of socialized distancing while in the Courthouse. The VSPC (Voting Service Polling Center) will be located at the Kiowa County Clerk's Office.