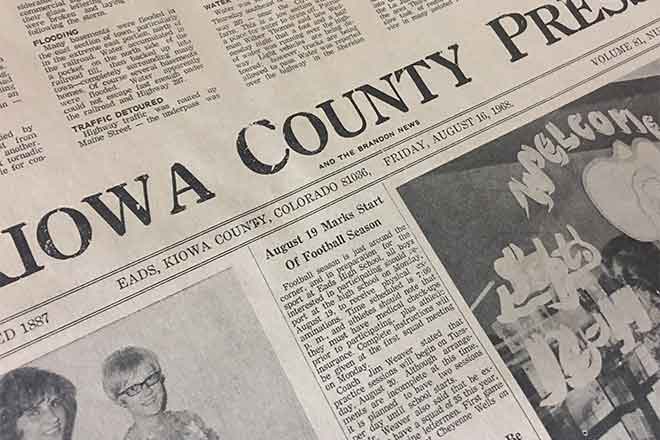 Published
Saturday, January 7, 2017
15 Years Ago
January 4, 2002
We awoke to about 4 inches of snow and a lot of ice underneath. There was a power outage on the west end of the county.
Wild Horse Roundup-Curtis Schrimp: I received in the mail a large envelope with 55 fan letters inside. They were from a middle school class in Clifton.
25 Years Ago
January 2, 1992
Cleo Everman retires from the county. Cleo started working for Kiowa County in 1937 with county Treasurer Tommy Rose. During World War II she became the rationing office of the county. After the war she returned to school and studied cosmetology and work as a hair dresser about 16 years. When her husband passed away she found her income to be insufficient and return to school to study data processing. In 1971 county Clerk Art Bradbury offered her a job as deputy clerk. And the rest as they say, is history.
For the third straight year, the National Stock Show rodeo will set a record for prize money offered on the North American professional circuit.
40 Years Ago
January 7, 1977
Re-1 teachers, school employees get raises. Teachers to received $400 in base salary and 7.4% salary increase for other school employees.
The Denver-Limon- Burlington Transfer Co. has been purchased by a pair of men, including former Eads resident James R. Smith.
50 Years Ago
January 6, 1967
Reflections: Goose hunters have had a good season. By some strange circumstances, the wily birds have choose to congregate in Kiowa County.
Mrs. Marion Wimp, Kiowa County Libraian, will be listed in "Who's Who in Colorado", 1996 edition.
75 Years Ago
January 2, 1941
January 1 at 7 am the mercury stood at -8 with wind still pushing down from the north.
100 Years Ago
January 12, 1917
Howard Sunday soon to begin the erection of a brick 50x75' garage located near the present site. The popularity of the Ford car and ability of Mr. Sunday and his assistant mechanics in repair work have made this necessary