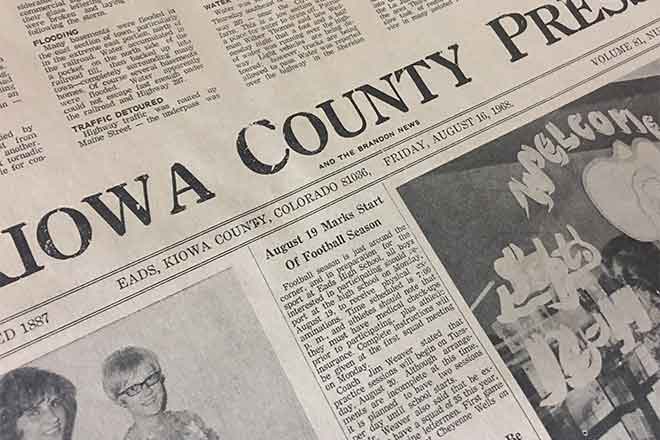 Published
Friday, June 9, 2017
Pages from the Past
15 Years Ago
June 7, 2002
Ag Secretary designates most Colorado counties as drought disaster areas, making Colorado farmers and ranchers immediately eligible for USDA emergency farm loans.
Coloradoans will get a rare chance to see the moon slide across the face of the sun during a partial solar eclipse.
USDA update-Rod Johnson: 3 days in a row, temperatures in excess of 100 & high wind has caused continued serious problems with trying to farm and raise cattle.
Wild Horse Roundup-Curtis Schrimp: Fire trucks, water trucks & lawmen really went buzzing by our place. I was told there was a plane dumping water on the Rush Creek fire.
25 Years Ago
June 4, 1992
The delivery of recycling containers to Eads marks the beginning of the pilot program in Southeast Colorado.
Two new business open in Eads. Kelli Berry Opened QT Tanning Salon and Shear Reflection operated by Nikki Hopkins open on Maine Street.
A certificate of appreciation presented to Doris Lessenden of Eads High School for 12 years of service as Lamar Community College outreach coordinator for Kiowa County.
The 9th annual Jinkens reunion held at the Aline Legion in Aline OK. A potluck supper was served. Photos of family heirlooms dating to the late 1800's were displayed for family to view.
40 Years Ago
June 10, 1977
The cities of La Junta, Boone and Sugar City indicated they were not going to participate in the construction of the propose Arkansas Valley water conduit.
The search for the Kiowa County Posse Queen to represent the county in statewide competition that meets here on Labor Day.
Sheridan Lake farmer F. Hobart Hallock was appointed chairman of the state committee of the Agriculture Stabilization & Conservation Service.
Merely Henry, Towner native, was named to coach North AAA all state basketball by Colorado coaches of the High School Activities Association.
The first Wiley Hay Days will feature a tractor pull, carnival booth, fire truck rides BBQ lunch, ice cream social, parade and street dance.
50 Years Ago
June 9, 1967
Two men from Rocky Ford drowned in Blue Lake when their boat became swamped when sudden wind caused large waves to engulf the boat. A third man manage to stay afloat until he was picked up.
Playing at the Plains Theatre: Monkeys, Go Home!
Bartlett & CO ad: Attention Farmers Make Use of the Recent Rain! Plant a Crop on Those Abandoned Wheat Acres. Grow Crambe
75 Years Ago
June 5, 1942
The patrons of the Fine Flat school district voted to move the south schoolhouse father north to the more convenient oiled highway 287.
100 Years Ago
June 8, 1917
Good substantial street crossing has been put in on Maine St. from the First National Bank north and one from the Post Office north & one is to be put in across Maine Street on the bank corner.
The new road on the 1/2 section line, running north through Bristol has been granted by the Prowers County Commissioners. The road also designated as a state highway will run due north through Sheridan Lake and straight to Denver.