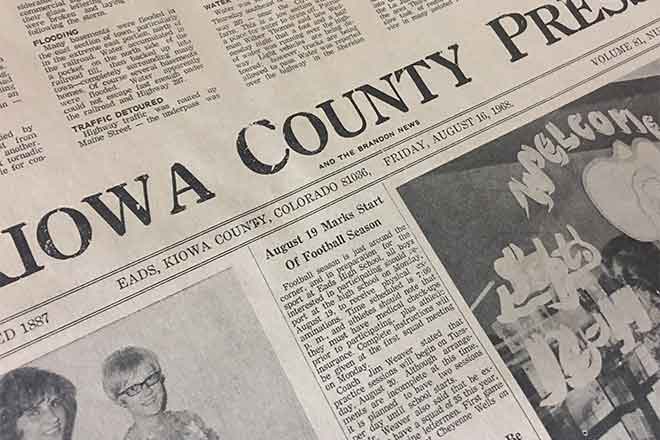 Published
Friday, November 10, 2017
15 Years Ago
November 8, 2002
Wild Horse Roundup-Curtis Schrimp: You can tell I'm full of news tonight when I have to write about the woodpecker outside my window. He was working so hard on the back of the tree he acted like he wanted to take it all off & he got quite a little of it off.
The Southeast Colorado 33rd Annual Guild Show held in Lamar with a number of artist from Eads partaking. Kim Barlow won People's Choice Award & President's Choice Award for her color pencil "The Gunfighter"
25 Years Ago
November 5, 1992
Halloween night in Eads. Teenager set off fireworks on Maine Street for several hours. The display ended around 12:15am. Pranksters showed mischievous talent by writing on the store windows. At the Democratic Headquarters, they wrote Vote for a Republican.
40 Years Ago
November 11, 1977
An attempted to take over the Southeast Colorado Power Association meeting failed when the meeting was abruptly adjourned without any action being taken & before a speaker from Washington could deliver his keynote address.
Clarence Woelk's third offer submitted to buy the antique fire truck from the town of Eads, his $500 offer was accepted unanimously.
Potpourri: the tumbleweed migration started in earnest on Tuesday. While most farmers claim most of them stop in their fences, it seems as if they keep rolling and rolling and rolling....
50 Years Ago
November 10, 1967
The Chamber of Commerce completed plans for sponsoring an open house for the dental office of Dr. John F. Hines and also Weisbrod Hospital and Nursing Home