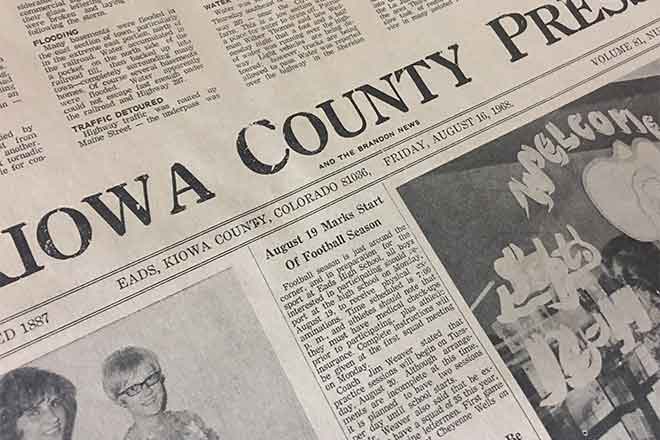 Published
Friday, November 1, 2019
15 Years Ago
October 29, 2004
Vivian Gifford help break ground at the site of a new assisted living center being constructed just south of Eads.
USDA Update-Rod Johnson: Very Strong southwest winds blew across the county causing some corn and grain sorghum to blow down.
25 Years Ago
November 4, 1994
A vote yes on Question A will allow the Hospital District to decrease the mill levy, decrease taxes, continue to expand and improve services without additional tax revenue.
40 Years Ago
November 2, 1979
Early autumn blizzard slammed its way through Tuesday continued its wintery blast across the Southeastern Plains, causing extensive damage to power lines and plunging Kiowa County, along with many other communities throughout the area, into darkness without electricity.
50 Years Ago
October 31, 1969
We have a report the two wildcat locations north of Eads as drilled and abandoned.
Steps are being taken to form a Development Corporation in the community. A Development Corporation is necessary if the area is to continue its growth- through development of existing and new business ventures.
75 Years Ago
October 20, 1944
Kiowa County is fortunate to receive a new Galion maintainer, which was put to work on the roads around Eads this week. They have been without suitable equipment here for some time, and the new machine, with Mike Kaza at the wheel, should level off some of the bumps.
100 Years Ago
October 31, 1919
The Nipps building here narrowly escaped destruction when it caught fire in the kitchen of the restaurant. The partition was burned through to the Kiowa County Press office, and the floor upstairs was afire when the fire extinguishers and bucket brigade succeeded in extinguishing the blaze.