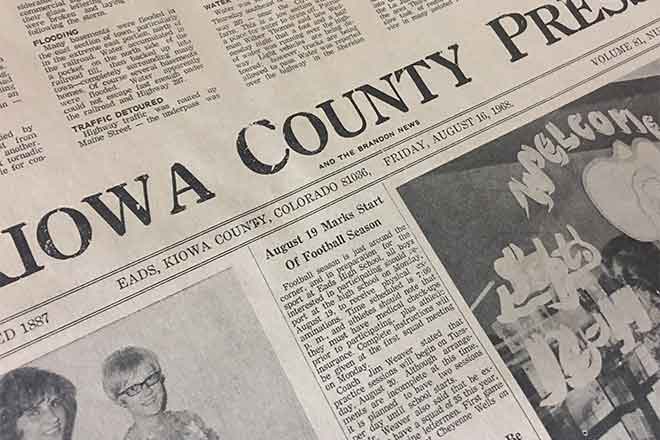 Published
Friday, April 3, 2020
15 Year Ago
April 8, 2005
The second structure fire in less than a week, heavily damaged an old single-story house used for storage in Eads. The 2 fires have not been linked.
Game night at the Towner Hall. Everyone is welcome to attend.
Wild Horse Roundup - Curtis Schrimp: Well I set six clocks and my watch ahead last night, sort of can't tell time by the sun now.
25 Years Ago
April 7, 1995
A cutting torch started a grass fire southwest of Eads. Less than an acre was charred, and the fire was quickly contained by the Eads Volunteer Fire Department with assistance from the Kiowa County Sheriff Department.
Area Notes -Amy Weirich: The baseball strike is over. Who cares? They obviously don't care about their fans. If you want to see a baseball game, go see the Eads team, because these guys are pretty good.
40 Years Ago
April 4, 1980
Three spring blizzard-like snow storms, closely following one another "shut down" southeast Colorado and western Kansas. More than 20.5 inches recorded by Eads official weather observer John E. Jacobs from March 27 through April 1.
Texan Thomas L. Gaddie is riding toward what he hopes will be a new world record long-distance horseback ride. The current record is 10,000 miles, and he is hoping for 12,000+. Gaddie and his entourage were forced to stay over in Eads a few days because of the weather.
50 Years Ago
April 3, 1970
Bob Miller won all-events championship of the Eads Men's Bowling Association's seventh annual tournament held at Eads Lanes.
75 Years Ago
March 30, 1945
A prairie fire burned over a large strip of grass west of Eads. High wind from the southwest drove it through the Etta O'Brian place, burning outbuildings and barn. The fire headed into the field and stopped.
100 Years Ago
April 2, 1920
C.E. Brandt cranked his large car at the Sunday garage while it was in gear. It backed through the door, while the door was closed, leaving considerable broken glass and woodwork in the wake.
The town council is purchasing a Ford fire truck with complete equipment, including chemical tank and 1,000 feet of fire hose.