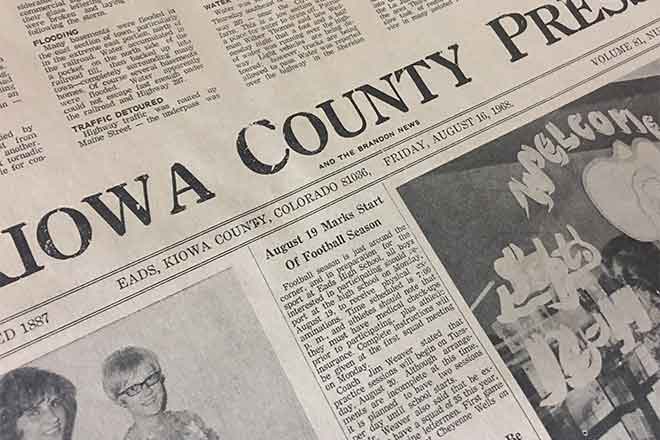 Published
Sunday, November 1, 2020
15 Year Ago
November 4, 2005
USDA Update- Rod Johnson: Reports from the grain sorghum harvest are generally positive. The test weight is near normal for the first time in several years.
25 Years Ago
November 3, 1995
FSA Update- Rod Johnson: Milo harvest was disappointing. Test weights in the 30-pound range. Yield average about 40% below normal county wide.
40 Years Ago
October 31, 1980
With donations coming in from many people and businesses for the Eads Tennis Court Project, it looks like perhaps that someday the dream of a tennis court will come true.
Operation Game Thief offers substantial rewards to citizens who turn in poachers. The minimum reward offered in big game cases is $250.
50 Years Ago
October 30, 1970
Plans were formulated at the regular Eads Chamber of Commerce meeting to secure the services of a promotion and advertising firm to make a county survey of physical assets and liabilities for presentation to industrial firms which may be interested in re-locating or expanding in a rural area.