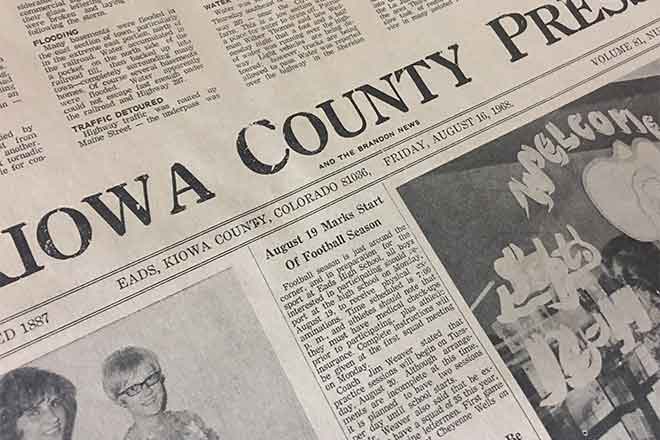 Published
Sunday, November 8, 2020
15 Year Ago
November 11, 2005
Wild Horse Roundup - Curtis Schrimp. I was thinking about going to Kit Carson to see the football game, but when I looked out it didn't look like there was room on the road with all the thistles. Whoever raised that crop I wish they would have bailed it.
25 Years Ago
November 10, 1995
About Town -Ida Lessenden: Eads senior citizens had many fun "tricks and treaters" at the center. Also, many adult friends came in costume whom we could never guess who they were. When they took off their masks, we had some good laughs.
Ira Paulin, who farms 12 miles south of the Plainview School, was selected as Conservationist of the Year by the Kiowa County Soil Conservation District.
40 Years Ago
November 7, 1980
A turnout of 85.5% of the registered voters in Kiowa County exceeded the previous turnout in 1978 by 1.2% when 84.3% turned out to cast their ballot.
Mrs. Lewis second grade class is busy making wooden puzzles at the Eads High School shop. Mr. Herbert, shop teacher, is helping the students with their projects.
50 Years Ago
November 6, 1970
The county commissioners' race between incumbent George D. Crow (R) and Roy Robertson (D) spotlighted Kiowa County ballot in Tuesday's election. Robertson unseated Crow by a narrow margin of five votes.
75 Years Ago
November 2, 1945
Alarmed at finding a number of rattlesnakes on the oiled street and barrow pit along the north side of town, several men investigated to find dozens of rattlesnakes had moved in from adjacent prairie and gathered on the football field and other parts of the playground north of the school. They set the grass on fire and killed more than 50 rattlers. They kept coming and the total killed to date is more than 100.
100 Years Ago
November 5, 1920
Percy Devereux plans to open the new Cinema Theatre this week, showing pictures in the afternoon and evening. The first picture is on that recently made a big hit in Denver entitled "Silk Hats & Cotton Dresses."