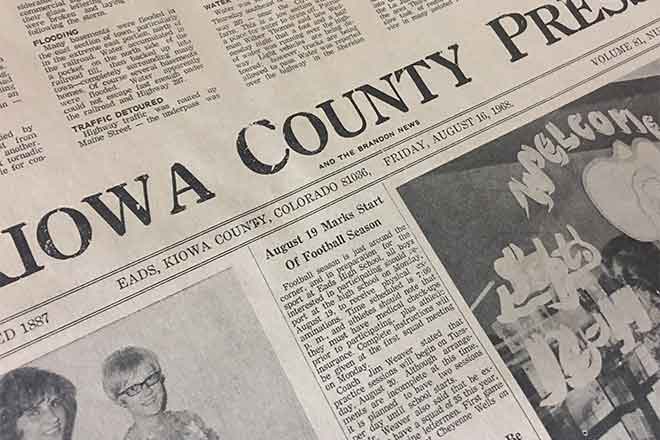 Published
Sunday, December 27, 2020
15 Year Ago
December 30, 2005
25 Years Ago
December 29, 1995
Karaoke Night at The County Seat - Laser Disc Karaoke with DEE
The Weisbrod Nursing Home & Hospital staff hosted a Christmas party for the residents and staff.
40 Years Ago
December 26, 1980
Burl Scherler, from Sheridan Lake, was elected 1 of 3 delegates to represent the Rocky Mountain Farmers Union at the National Farmers Union Annual Convention.
From the Sheriff's Desk- Floyd Griswold: I have also been advised to set in my office with my feet on my desk and wait for individuals to call me with a complaint, rather than patrol this county and look for problems.
50 Years Ago
December 25, 1970
Someone with a very low sense of values, a twisted mind, and apparently had nothing constrictive to do, made a good haul a few nights ago. The Press office received a number of complaints indicating missing bulbs from Christmas lightning displays.
75 Years Ago
December 21, 1945
Mr. & Mrs. Burl Holcomb of Eads suffered considerable loss when their house was almost destroyed by fire. First alarm sounded soon after midnight and volunteers extinguished it. A few hours later the fire broke out again, this time doing extensive damage before being put out.
100 Years Ago
December 24, 1920
G.H. Weber announced that he is running a taxi and will carry passengers anywhere and at any time. Mr. Weber is a careful and efficient driver and his car is a comfortable Ford sedan.
Floyd Ham, 30-year-old son of A.B. Ham, wealthy pioneer cattleman of Las Animas, was found dead in his automobile, shot through the head at the Gageby Spring, 14 miles northeast of Las Animas.