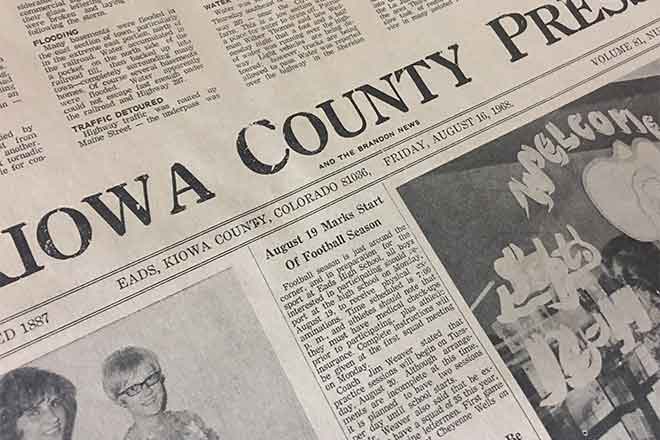 Published
Sunday, March 14, 2021
15 Year Ago
March 17, 2006
St. Patrick's Karaoke March 18 at The County Seat.
Wild Horse Roundup- Curtis Schrimp: Club was held Wednesday so as to not interfere with anyone going to the basketball game.
East End Events- Lana Weber: Don't know if this is news or a warning, but I did get my license Monday. Just so everyone knows!
March 2 more than 50 community members walked through the doors of the old Plains Theatre and were treated to a walk down memory lane.
25 Years Ago
March 15, 1996
Rex Barlow, son of Kirk and Kim Barlow, posed with the third set of twins this season born to heifers owned by the Barlow's.
The Board of Trustees of the town of Eads voted to cancel the election for Trustees and Mayor due to lack of sufficient candidates.
FSA Update- Rod Johnson: Still waiting! Same song second verse. Still no final action on the Farm Bill.
Nursing Home News- Nellie Nickert: A typewriter without a ribbon is like a car without gas, it won't go far, so this week news will be scant.
40 Years Ago
March 13, 1981
For the third straight year, the Eads Girls Basketball has won the coveted District Basketball Crown.
The two-day seminar of agricultural marketing has been cancelled but will be re-scheduled. The cancellation announced after a number of scheduled speakers from the federal government were forced to change their travel plans due to federal budget cuts and absence of policy in many areas.
50 Years Ago
March 12, 1971
The past 25 years has meant growth and modernization for SECPA in Kiowa County. By 1950 (or soon after) nearly every rural home in Kiowa Count was provided with dependable REA electric power.
75 Years Ago
March 1, 1946
Mr. & Mrs. Vern Nordick have about completed the extensive improvements of the building and will open V & N Cafe next Saturday.
100 Years Ago
February 18, 1921
The First National Bank of Eads will put into operation a Savings Department