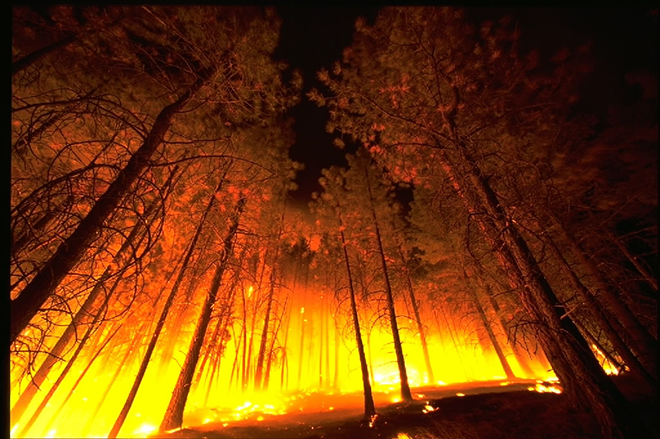 Published
Tuesday, August 11, 2020
The Pine Gulch Fire burning in Mesa and Garfield counties has grown to 30,247 acres, while the new Grizzly Creek Fire along Interstate 70 five miles east of Glenwood Springs reached 1,300 acres just a few hours after it was first reported Monday afternoon.
Firefighters encountered what has been described as large, active flames in the median of I-70 near the Grizzly Creek rest area in Garfield County before the fire began spreading up a north-face mountain slope. Sixty firefighters from at least nine agencies, along with numerous planes and helicopters, responded to the blaze.
A 14-mile stretch of Interstate 70 between Glenwood Springs and Gypsum remained closed in both directions overnight according to the Colorado Department of Transportation. CDOT recommended using alternate routes south of the area, and avoiding Cottonwood Pass due to fire activity in the area.
There are no evacuations and no structures immediately threatened.
The Pine Gulch Fire, which was first reported July 31 about 18 miles north of Grand Junction, has grown to 30,247 acres along the Mesa-Garfield county line.
Nearly 600 firefighters have worked to establish seven percent containment on that fire, which continues to spread to the north and east.
Evacuations orders have been issued for homes along County Roads 202, 204, 207, 209 and 211 as of Sunday night. Roads in the area have been closed by the Garfield County Sheriff.
A red flag warning for high fire danger will be in effect from noon to 8:00 p.m. for western Colorado counties along the border with Utah. Wind gusts up to 30 miles per hour, along with relative humidity falling as low as seven percent, are expected to create dangerous fire conditions.
An air quality health advisory, issued by the Colorado Department of Public Health and Environment, is in effect for Mesa, Garfield, Rio Blanco and Eagle counties through at least Tuesday morning due to smoke from both fires. Moderate to heavy smoke could cause breathing difficulty for people with respiratory illnesses, children, and people who are elderly. Outdoor activity should be limited.
Temporary flight restrictions - which includes drones - are also in place over the fires due to the heavy use of firefighting aircraft to battle the blazes.
Fire danger in the area remains high, and Stage 1 fire restrictions are in place for Mesa and Garfield counties. Stage 1 restrictions are also in effect for Bureau of Land Management land covered by the Grand Junction Field Office.