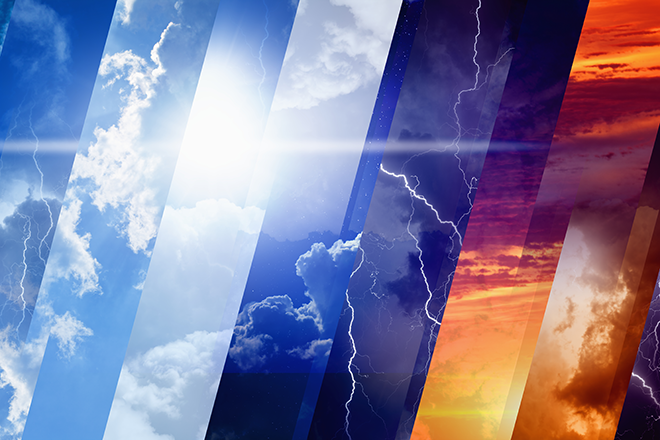 Published
Sunday, June 18, 2017
A summer cold front passed across eastern Colorado Saturday, leaving Sunday's temperatures 15 or more degrees cooler for the eastern half of the state - however heat will return in the coming week.
Sunday will start off cloudy across southeast Colorado, gradually clearing by late morning. Temperatures will mainly be in the upper 70s to low 80s over the eastern plains, though the Arkansas River valley will be a few degrees warmer, and western Colorado will continue to suffer under 90 degree highs. Mountain areas can expect highs in the 50s and 60s. A few widely-scattered showers and thunderstorms are possible.
A high pressure system building over the southwest US will lead to a warm-up across the state through the middle of the week. Temperatures in the mid- to upper 80s return Monday, increasing to above-average 90s for Tuesday and Wednesday. Chances for rain will be minimal, and remain mostly over mountain areas. Lightning and wind will be the greatest threat from storms that do develop.
Portions of the western slope, including Grand Junction, will be under a heat advisory Tuesday through Thursday as temperatures reach 100, and potentially as high as 110.
Another cold front dropping across the northern Rockies and central plains is currently expected late in the week. The chance for thunderstorms will increase, and temperatures will again cool to the 70s and 80s.
Check the new KiowaCountyPress.net weather page for regular updates throughout the week.
Weekend Forecast - June 18-20

Sunday

Monday

Tuesday

City

High

Low

High

Low

High

Low

Eads

80

57

86

58

96

60

Springfield

79

57

87

60

95

63

Trinidad

82

57

86

59

94

61

Limon

77

51

83

55

94

58

Sterling

78

53

83

56

95

60

Fort Morgan

80

52

84

57

95

60

Craig

81

47

84

48

89

51

Grand Junction

95

66

96

65

102

68

Montrose

90

57

94

58

96

61

Cortez

91

54

93

52

96

54