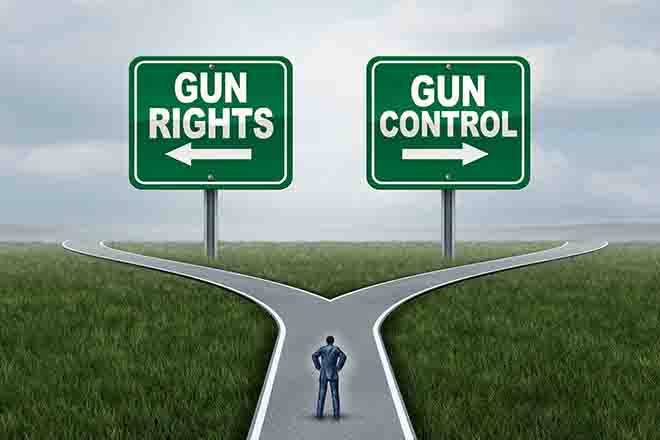 Published
Sunday, May 28, 2023
(The Center Square) - Numerous states took action to implement gun control legislation this year, many involving firearms deemed "assault weapons." Lawsuits have already been filed against many of them at the state and federal levels.
The following is a breakdown by state of the most notable gun control bills proposed and/or passed.
WASHINGTON
The Democratic-controlled Washington Legislature enacted several significant gun control bills all signed by Governor Jay Inslee. They include a broadly defined ban on the sale and purchase of assault weapons, a 10-day waiting period on the purchase of legal firearms, and loosening legal protections for gun sellers against lawsuits.
The assault weapon ban has already been taken to court at both the federal and state level.
ILLINOIS
In a lame duck session in January, before the 2023 regular legislative session began, the Democratic-controlled Illinois legislature passed, and Governor J.B. Pritzker signed into law, a sweeping gun restriction measure that banned more than 170 semiautomatic handguns and rifles that lawmakers deemed assault weapons, as well as magazines that hold more than 15 rounds for handguns and 10 rounds for rifles.
Gun rights advocates filed several lawsuits challenging the ban on several constitutional grounds in both state and federal courts, winning in some jurisdictions and losing in others. The ban remains in effect as the cases work their way through the court systems.
COLORADO
The Colorado General Assembly passed several gun restriction bills this session, including a three-day waiting period for purchases, raising the purchase age to 21 years old, a repeal of liability limits for gun manufacturers, and an expansion of the state's extreme risk protection order law. All have been signed by Governor Jared Polis.
The Legislature also considered a ban on "ghost guns." Lawsuits were filed against the waiting period bill and the legal purchase age bill immediately after they were signed into law. Despite a supermajority, a proposed ban on firearms deemed assault weapons failed to make it out of a House committee after hundreds testified against the proposal.
MARYLAND
The Maryland Legislature passed several gun control bills that have been signed by Governor Wes Moore. One of them removes the "good and substantial reason" language from Maryland law regarding justification for citizens to get a concealed carry license. Another bill further restricts individuals with concealed carry licenses from entering certain areas. The National Rifle Association has already filed a federal lawsuit against them.
HAWAII
Hawaii's Legislature passed a bill making it illegal to carry a concealed firearm anywhere deemed a "sensitive place," a policy also enacted earlier this year by the Honolulu City Council.
MAINE
Several firearms bills introduced this session drew strong support and opposition among those testifying during their public hearings. One bill would require criminal background checks for sales, transfer, or exchange of firearms, while another bill impedes the transfer of firearms to prohibited people. Also, a 72-hour waiting period following the purchase of a gun was discussed. Several of the bills were advanced by the Criminal Justice and Public Safety Committee.
RHODE ISLAND
Almost 30 gun-related bills were introduced, including a ban on firearms defined as assault weapons and a 30-day waiting period per firearm. Another would mandate that information about firearms taken at a crime scene be sent to the Bureau of Alcohol, Tobacco, Firearms and Explosives. Gun rights activists have threatened to file lawsuits against some of the legislation if it passes.
TENNESSEE
A Tennessee bill was introduced to lower the age for concealed carry permits from 21 to 18 and change the terminology from handguns to all firearms. The measures stalled along with the rest of the state's Second Amendment legislation following a shooting at Nashville's Covenant School that left six employees and students dead.
Meanwhile, Governor Bill Lee called for a special session involving Second Amendment and public safety legislation set to begin on Aug. 21. The Firearms Policy Coalition has voiced its opposition to the special session and Lee's proposed red flag law.
PENNSYLVANIA
The Pennsylvania House advanced several measures that would impose new gun restrictions for the first time in years - including universal background checks, safe storage regulations, theft reporting requirements, and a red flag law that would allow emergency legal hearings to disarm owners in crisis.
Republicans offered several amendments to the bills that would discourage residents from making false reports about a gun owner's mental health and alert federal authorities when a buyer fails a background check due to immigration status. The House ultimately passed the "red flag" gun bill and a bill closing a so-called gun show loophole. The theft reporting bill failed to clear the chamber.
VIRGINIA
Democratic lawmakers in both chambers introduced several pieces of legislation involving gun safety. The bills included banning individuals from carrying assault weapons in certain public places and prohibiting the sale of unserialized gun parts - while some Republicans introduced legislation to repeal some state gun laws. Nearly all of the gun laws introduced this legislative session were unsuccessful, with the exception of a tax credit for the purchase of firearm safety devices, such as, gun safes and lock boxes - with a tax credit of up to $300.
NEW YORK
The New York State Senate and Assembly have identical bills that would require the "division of criminal justice services to establish and maintain a database of information relating to the sale or use of microstamped guns in the state and to promulgate regulations regarding the provision of information pertaining to the sale, delivery or use of such guns within the state." Other proposed legislation in both the Senate and Assembly would "establish a private cause of action for certain violations regarding machine-guns, assault weapons, disguised guns, ghost guns, and unfinished frames or receivers." A private right of action clause would allow a private plaintiff to bring action based on a public statute.