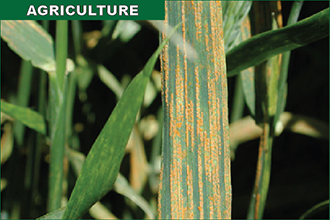 Published
Wednesday, May 25, 2016
By Kelly Roesch, Southeast Area Agent
Stripe Wheat Rust has been found throughout eastern Colorado, with heavier concentrations located in the southeastern corner of the state. Stripe Wheat Rust is a fungal disease that causes yellow lesions in a narrow stripes running the same direction as the grain of the leaf. Cooler and wetter than average conditions experienced throughout the month of April and first two weeks of May have helped promote fungus spread. Stripe Rust is most commonly found in the plant leaves and causes the most yield loss when the flag leaf is infected. Triazole class fungicides offer an effective and relatively low cost treatment, with product cost starting at $2.50 per acre. Producers should consider mechanical damage to crop when determining the best application method for the fungicide, either aerially or via a ground applicator. Additional information on Stripe Wheat Rust can be found at:
http://www.plantpath.k-state.edu/extension/publications/wheat-stripe-rust-ep1671-1.pdf
Several wheat varieties have some level of resistance to rust and other leaf diseases. Producers should consider disease resistance when choosing seed varieties this fall. To learn more about new hard red and hard white wheat varieties developed by Colorado State University and other private breeding programs in the Great Plains region, producers are encouraged to attend the 2016 Wheat Field Days. Wheat Field Days are jointly hosted by the Colorado Wheat Administrative Committee (CWAC), Colorado Wheat Research Foundation (CWRF), and Colorado State University (CSU) Cooperative Extension and Agricultural Experiment Station. The Southeastern Colorado 2016 Wheat Field day will be held June 9th. The day will begin at 8:00 a.m. at the Plainsman Research Center north of Walsh, continue to Stulp Farms south of Lamar at 1:00 p.m., and conclude at Burl Scherler Farms north of Brandon at 5:00 p.m. Additional information on Wheat Field Days can be found at: www.coloradowheat.org, calling 1-800-WHEAT-10 or by contacting your local CSU Extension office.