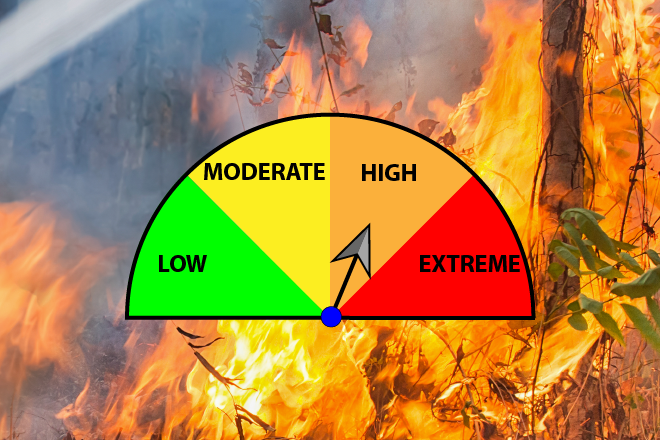 Published
Sunday, April 15, 2018
After a weekend that saw blizzard conditions for part of Colorado, the risk of wildfires returns to open the week for the southern part of the state.
Sunday starts off with mild temperatures and a lack of the winds that battered the state Friday and Saturday. Most of the southeast plains will see highs in the 60s, while the northern plains will reach the upper 50s.
A red flag warning will be in effect from 11:00 a.m. to 8:00 p.m. Monday for Las Animas, Huerfano, Pueblo, Costilla, Alamosa, Custer and Fremont counties, along with portions of Conejos, Rio Grande, Saguache and El Paso counties. In western Colorado, a red flag warning will cover all or portions of Archuleta, La Plata, Montezuma, San Juan, Dolores, San Miguel, Hinsdale, Montrose, Mesa and Garfield counties from noon until 10:00 p.m.
Temperatures in the 70s and 80s, along with strong wind gusts and low relative humidity are expected. Any outdoor activities that could spark a fire are strongly discouraged in the warned areas. Drought conditions continue to plague much of the state.
Fires over the past few months have prompted evacuations, often with little notice as residents of Boone in Pueblo county discovered Thursday when a fire raced toward the community. Fortunately, the town was spared.
Tuesday, a fire weather watch is in place for the southeast quarter of the state, along with the San Luis Valley. Southwest winds are expected to gust as high as 60 miles per hour.
Sunday also marks the start of severe weather awareness week in Colorado. Spring storms, and their associated risks, are around the corner. The Kiowa County Press will be bringing you a series of preparedness articles throughout the week to help you ensure your family's safety.
Check back Monday to read the first article in this week's series and remember to stop by 1208 Maine Street in Eads to register to win one of three weather radios being given away by KiowaCountyPress.net and Plains Network Services. Entries close at 4:00 p.m. Friday, April 27, 2018.