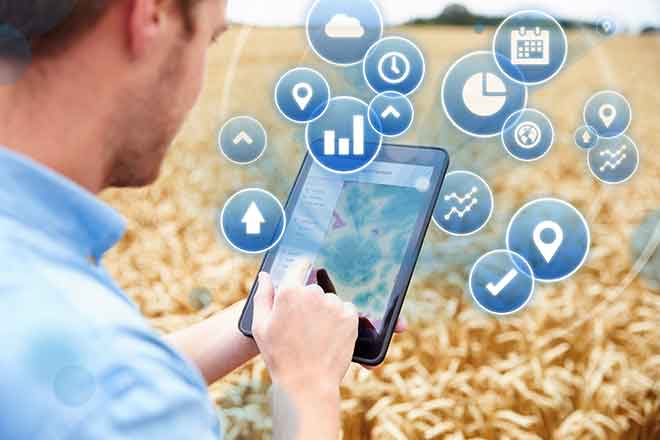 Published
Tuesday, June 25, 2019
Widespread precipitation in several areas of the state limited fieldwork last week, according to the Mountain Region Field Office of the National Agricultural Statistics Service, USDA.
Crop development and emergence continued to lag behind the average due to cool temperatures.
In northwestern counties, significant snowfall was reported in the high country. A reporter mentioned subsequent irrigation supplies should remain strong. Rangeland grass was in need of warmer weather to promote growth.
In northeastern counties, dryland crops and rangeland benefitted from varying amounts of moisture. A reporter mentioned conditions were ideal for wheat grain fill, but more heat units were needed to bring winter wheat to maturity. Rain and cool temperatures last week slowed crop development and hindered alfalfa hay harvest.
East central county reporters also noted significant precipitation and cool temperatures delayed fieldwork and kept crop growth behind. A reporter in Adams County noted low levels of wheat stripe rust were found.
In the San Luis Valley, scattered moisture was reported last week along with isolated hail. First cutting of alfalfa was progressing well. A reporter mentioned conditions were outstanding for barley stooling and the crop was rated in mostly good to excellent condition. Potato emergence and development remained behind, with plants still emerging in late-planted fields. Reporters noted nighttime temperatures dropped near or below freezing last week. Livestock were reportedly in good condition and being moved to mountain pastures.
In southeastern counties, damaging hail was reported on Saturday and producers were assessing crop conditions. A reporter noted more rain was received last week with up to 4 inches reported in one locality. Alfalfa hay condition was noted as poor due to unfavorable timing of moisture during harvest. A reporter noted oats were being cut for forage last week.
Statewide, stored feed supplies were rated 6 percent very short, 27 percent short, 60 percent adequate, and 7 percent surplus.
Sheep death loss was 1 percent heavy, 86 percent average, and 13 percent light.
Cattle death loss was 1 percent heavy, 92 percent average, and 7 percent light.
CROP AND LIVESTOCK PROGRESS

Commodity

Current week

Previous week

Previous year

5-year average

(percent)

(percent)

(percent)

(percent)

Alfalfa hay

1st cutting harvested

69

56

79

75

Barley

Headed

16

5

56

38

Corn

Planted

95

93

100

100

Emerged

93

86

99

99

Dry edible beans

Planted

54

41

79

85

Emerged

20

13

59

62

Potatoes inside San Luis Valley

Emerged

90

66

97

93

Proso millet

Planted

82

75

NA

NA

Sorghum

Planted

90

77

93

90

Emerged

58

33

69

64

Sunflowers

Planted

71

61

77

75

Winter wheat

Headed

95

92

99

99

Turning color

44

20

84

75

Mature

1

--

31

21

DAYS SUITABLE FOR FIELDWORK AND SOIL MOISTURE CONDITION

Current week

Previous week

Previous year

5-year average

Days suitable for fieldwork

4.6

6.4

5.6

6.3

Topsoil moisture

(percent)

(percent)

(percent)

(percent)

Very short

1

2

17

8

Short

6

11

22

20

Adequate

84

85

58

68

Surplus.

9

2

3

4

Subsoil moisture

Very short

3

2

17

10

Short

11

14

23

18

Adequate

81

81

60

70

Surplus.

5

3

--

2

CROP, LIVESTOCK, PASTURE AND RANGE CONDITION

Commodity

Current week

Previous week

Previous year

5-year average

(percent)

(percent)

(percent)

(percent)

Alfalfa hay

Very poor

2

1

10

3

Poor

6

7

17

8

Fair

10

8

32

27

Good

68

63

35

49

Excellent

14

21

6

13

Barley

Very poor

1

--

1

1

Poor

3

3

4

1

Fair

19

15

30

19

Good

49

47

45

54

Excellent

28

35

20

25

Corn

Very poor

--

--

2

1

Poor

4

4

6

4

Fair

27

18

17

19

Good

63

68

65

61

Excellent

6

10

10

15

Onions

Very poor

--

--

5

2

Poor

--

--

7

4

Fair

6

6

18

15

Good

88

86

67

67

Excellent

6

8

3

12

Pasture and range

Very poor

1

1

26

8

Poor

3

2

27

14

Fair

19

15

21

21

Good

58

67

24

47

Excellent

19

15

2

10

Potatoes inside San Luis Valley

Very poor

--

--

--

1

Poor

5

10

4

4

Fair

25

30

13

22

Good

51

40

59

55

Excellent

19

20

24

18

Potatoes outside San Luis Valley

Very poor

--

--

2

--

Poor

2

--

4

1

Fair

17

19

27

14

Good

73

73

44

66

Excellent

8

8

23

19

Sorghum

Very poor

2

NA

2

1

Poor

2

NA

3

3

Fair

22

NA

9

28

Good

67

NA

86

64

Excellent

7

NA

--

4

Sugarbeets

Very poor

--

--

3

1

Poor

1

1

11

4

Fair

28

39

27

18

Good

59

48

48

60

Excellent

12

12

11

17

Winter wheat

Very poor

1

2

6

8

Poor

3

3

19

14

Fair

16

16

33

29

Good

51

55

36

39

Excellent

29

24

6

10

Livestock

Very poor

1

1

--

--

Poor

4

4

3

1

Fair

21

20

20

15

Good

61

62

70

72

Excellent

13

13

7

12