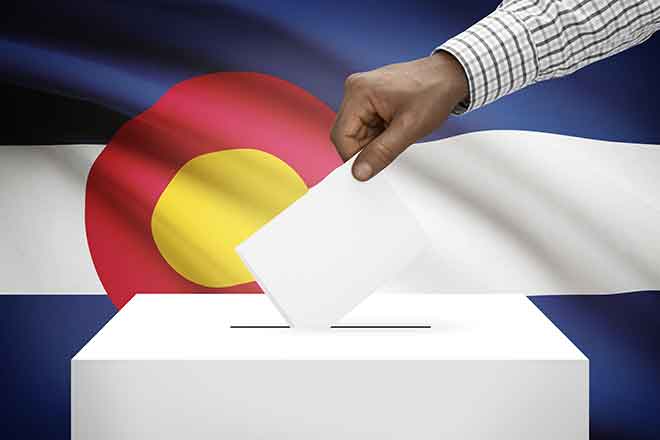 Published
Tuesday, November 3, 2020
(The Center Square) - Almost 2.6 million Colorado voters have turned their completed ballots in to county clerks as of Sunday, according to the Secretary of State's Office.
Of those returned ballots, 2,493,295 were mail-in ballots and 80,404 were in-person ballots. The highest number of returned ballots came from unaffiliated voters (948,881 ballots), followed by Democrats (862,804 ballots), and Republicans (728,005 ballots).
Two days ahead of the 2016 election, more than 1.8 million ballots had been returned, according to the office's data.
Colorado voters can turn in their ballots until polls close at 7 p.m. Mountain Standard Time on Tuesday. Voters who still need to return ballots can drop them off at one of the 368 drop boxes across the state or at a voter services and polling centers (VSPC).
The SOS said last week it anticipates that it will have 70% to 80% of ballots counted Tuesday night.
"In past elections, Colorado has been able to provide over 75% of results on Election Night," Secretary of State Jena Griswold's office said Friday. "However, that percentage may be impacted by the unique circumstances surrounding this year's election and high turnout."
Colorado was one of five states to offer mail-in voting to all eligible voters prior to the COVID-19 pandemic.
In the presidential race, Democratic nominee Joe Biden leads Republican President Donald Trump by 12.1% among Colorado voters, according to FiveThirtyEight's polling average.
Colorado is also home to a key U.S. Senate race that could play a deciding factor in whether Republicans maintain their Senate majority. Incumbent Sen. Cory Gardner currently trails former Gov. John Hickenlooper by eight points in a recent Morning Consult poll.
In the race for Colorado's 3rd Congressional District, Democrat Diane Mitsch Bush faces off against Republican Lauren Boebert, who beat out five-term Congressman Scott Tipton in the primary election, in a tight race that RealClearPolitics currently rates as a toss up.
Colorado voters are also deciding on 11 ballot questions, among them a Gallagher Amendment repeal, an income tax decrease, a paid family leave program, a national popular vote measure, a tobacco and nicotine tax increase, and a measure that would require voter approval of new state enterprises.