Image
Colorado GDP down 1.9 percent in first quarter
(The Center Square) – Colorado's gross domestic product (GDP) declined by 1.9 percent during the first quarter of 2022, according to new data from the Bureau of Economic Analysis (BEA). 
Colorado was one of 46 states that experienced decreases in economic productivity. New Hampshire saw the most grow at 1.2 percent, while Wyoming had a 9.7 percent decline. U.S. GDP was down 1.6 percent.
"In the first quarter, an increase in COVID–19 cases related to the Omicron variant resulted in continued restrictions and disruptions in the operations of establishments in some parts of the country," the BEA analysis said.
Image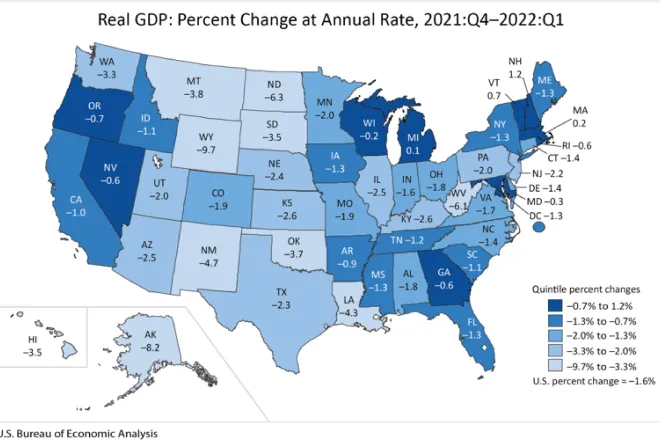 Nationally, GDP declined in eight of the 21 industry groups that the BEA tracks at the state level, according to the agency. Nondurable goods manufacturing declined by 17 percent in the first quarter while retail trade and finance declined by 10.2 percent and 7.1 percent, respectively. 
In Colorado, the state's mining, quarrying, and oil and gas industries each declined by 10 percent when compared to the fourth quarter of 2021, according to data from the Common Sense Institute (CSI), a free-enterprise think tank. 
One reason for the slowdown, according to CSI economist Steven Byers, is Colorado's new oil and gas rules that were promulgated under Senate Bill 19-181. Byers said the bill "hampered new production," which has kept the state from reaping the benefits of additional energy production. 
"Further restrictions on Colorado's oil and gas extraction industry will result in a further drag on the economic recovery," Byers said. "Higher interest and mortgage rates are beginning to impact the housing sector as demand for housing begins to ebb from its recent stratospheric levels and as such, construction could see a slowdown."
Confidence in the economy among the state's business leaders has slumped going into the third quarter, a recent survey also found.
"State economic expectations fell sharply below neutral ahead of Q3 and dipped slightly further ahead of Q4," according to the Leeds Business Confidence Index survey. "National expectations, which were already negative, fell further into the red ahead of Q3, but notched an incremental improvement ahead of Q4."