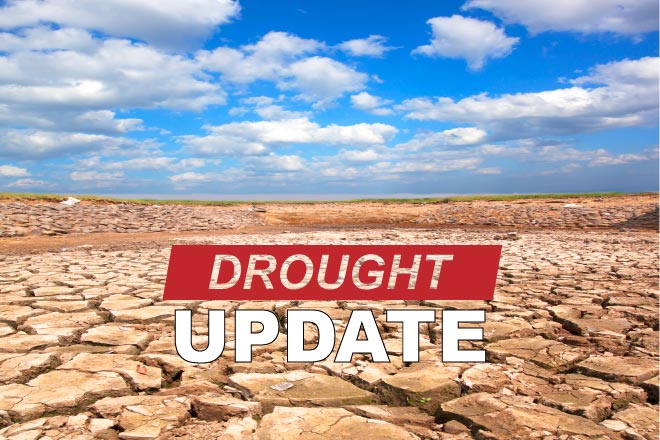 Published
Monday, June 14, 2021
While Colorado east of the continental divide has shifted out of drought over the past three months, the western third of the state continues to suffer under extreme and exceptional conditions according to the latest report from the National Drought Mitigation Center.
Northwest Colorado has been particularly hard hit, with exceptional drought increasing in portions of Moffat, Routt, Rio Blanco and Grand counties this week. Earlier in the year, a similar expansion impacted Moffat, Rio Blanco and Garfield counties.
Exceptional is the worst drought category.
Thirteen of Colorado's 64 counties have a least some area in exceptional drought, with most or all of their remaining area in severe conditions.
The coming week's forecast offers no hope for relief. The National Weather Service has issued an excessive heat warning for portions of west central Colorado for Monday through Friday. Such alerts are unusual for the state. Temperatures in the area - which includes Grand Junction in Mesa County - could reach 110 degrees, creating risks for heat-related illnesses, which can be deadly.
Along the continental divide, several central mountain counties, including Rio Grande, Saguache, Chaffee, Fremont, Park, Summit and Clear Creek, saw moderate drought improved to abnormally dry conditions.
Abnormally dry areas also declined near the improvements in moderate drought and disappeared from Las Animas County in the southeast.
Improvements in the eastern Colorado began in mid-March as significant snow provided relief. During May, thunderstorms continued to bring rain to the state's eastern plains, resulting in drought-free conditions for most northeast counties by the end of the month.
The first drought-free area in Colorado since mid-2020 appeared in late April.
Overall, 55 percent of the state is drought-free, up from 51 percent last week, with an additional four percent in abnormally dry conditions, down from six percent in the previous week. Moderate drought covers six percent of Colorado, down from eight percent, while severe drought remains unchanged at six percent. Extreme drought dropped from 13 to 12 percent. Exceptional conditions expanded from 16 to 18 percent. Total does not equal 100 due to rounding.
Slightly over 572,000 people in Colorado are in drought-impacted areas, down from 4.6 million in April.
One year ago, 23 percent of the state was drought-free, with an additional 13 percent experiencing abnormally dry conditions. Moderate drought was impacting another 14 percent of the state, with 24 percent in severe drought and 25 percent in extreme conditions. Exceptional drought had not yet appeared in Colorado. Total does not equal 100 due to rounding.
Early in the summer of 2019, the state was in an eight-week span of drought-free conditions - the first time Colorado had been clear from all levels of drought and abnormally dry conditions since records became available starting in 2000. In late May of that year, the state's snow water equivalent stood at 437 percent of normal following a series of storms that brought abundant moisture across Colorado's river basins.
As much as 77 percent of the state has fallen into the extreme and exceptional categories within the past year.
Colorado Drought by the Numbers

Week

Date

None

D0

D1

D2

D3

D4

Current

6/8/21

55

4

6

6

12

18

Last Week

6/1/21

51

6

8

6

13

16

3 Months Ago

3/9/21

0

1

10

32

41

16

Start of Calendar Year

12/29/20

0

0

6

18

49

28

Start of Water Year

9/29/20

0

1

10

36

50

3

One Year Ago

6/9/20

23

13

14

24

25

0