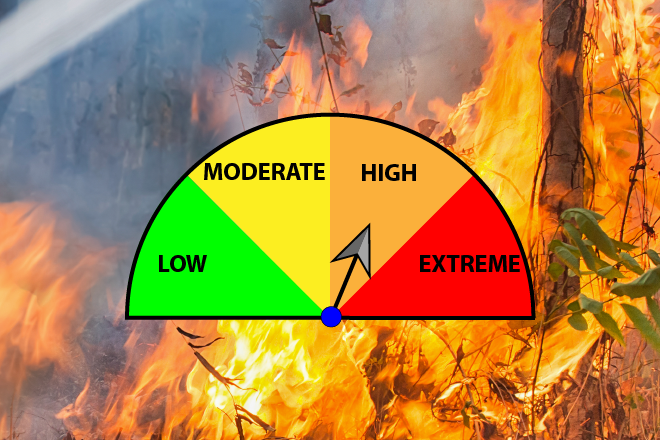 Published
Saturday, March 27, 2021
The National Weather Service has issued a fire weather watch for Monday across most of Colorado's southeast plains, which is expected to be followed by a dramatic temperature drop Tuesday, along the potential for snow in some areas.
Strong winds, low relative humidity, and temperatures approaching, or even exceeding, 80 degrees in parts of the southeast will set the conditions for rapid fire growth for fires that do start. Wind out of the southwest is expected to gust as high as 40 miles per hour while humidity could fall below 10 percent. Although some areas have seen the first hints of a spring green up following recent rain and snow, most plants are still dormant for the winter, leaving plenty of fuel to feed a fire.
The San Luis Valley is not yet under a watch; however, conditions could be similar to the southeast plains for the valley Monday afternoon.
The fire weather watch is in effect for Monday afternoon into the early evening hours, and extends into neighboring New Mexico, Texas, Oklahoma, and Kansas. Winds in surrounding states could be even stronger, with winds gusts to 50 mph.
The NWS is strongly discouraging any activities that could spark a fire.
While winds could briefly subside Monday evening, a passing cold front out of the north is expected to bring a second round of strong wind overnight into Tuesday morning. Portions of El Paso County could even see brief periods of heavy snow, along with low visibility. Snow is also possible for other parts of southeast Colorado.
Tuesday's temperatures are expected to make a dramatic drop across the region, with highs falling as much as 35 to 40 degrees from Monday. Highs in the upper 30s to low 40s are predicted.
Colorado counties included in the watch currently include Baca, Las Animas, Huerfano, Pueblo, Otero, Bent, Prowers, Kiowa, Crowley, El Paso, Lincoln, Cheyenne and Kit Carson.