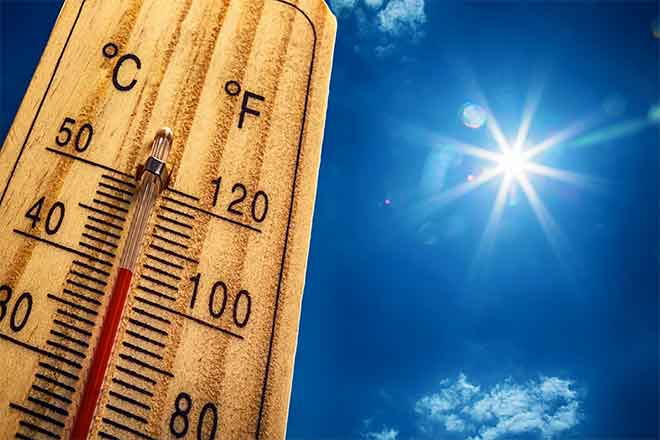 Published
Saturday, July 13, 2019
There's little chance for a break from the hot, dry conditions across Kiowa County over the next week.
Look for Saturday's high temperatures to return to the 90s, with Towner the "cool" spot at 93 degrees, while Arlington is expected to fall just short of 100. Clear, sunny skies are expected throughout the day, with mostly clear conditions over night. Lows in the 60 are predicted.
Far western Kiowa County has a slight chance of evening thunderstorms Saturday.
Rain is not expected until Monday evening at the earliest for most of Kiowa County when a slight chance for thunderstorms enters the forecast. Somewhat better chances for thunderstorms returns Tuesday evening.
High temperatures in the 90s are predicted at least through Friday.
Currently, KiowaCountyPress.net Live Weather from downtown Eads shows SE wind at 0 mph. Early Friday afternoon, winds were gusting to 15 mph. The current temperature is 54, with 0.00 inches of rain so far today. Yesterday, 0.00 inches of rain was recorded in Eads during the early morning hours, with an unofficial high of 100. The strongest wind gust since midnight was 4 mph, while the high temperature for the day so far was 58 at 12:00 AM.
Elsewhere in Colorado, most areas will see the same hot, dry conditions expected for Kiowa County, with some potential for thunderstorms to develop, especially in mountain areas.
Weather information updated throughout the day is available at http://weather.KiowaCountyPress.net.
Kiowa County Weather Outlook for July 13, 2019

Community

High

Low

Chance of Precip

Wind Gust

Direction

Arlington

99

64

10

15

SE

Haswell

96

64

10

15

SE

Eads

95

62

0

15

SE

Chivington

96

62

0

15

SE

Sand Creek Massacre NHS

95

61

0

15

SE

Brandon

95

62

0

15

SE

Sheridan Lake

94

61

0

15

SE

Towner

93

61

0

15

SE